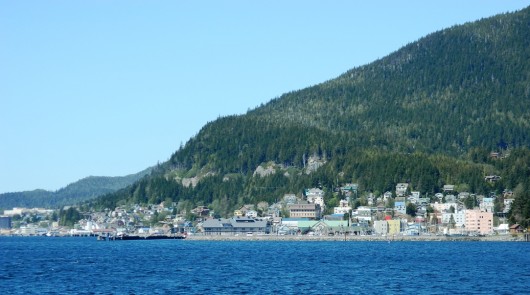 Two power outages, one on Saturday and another Wednesday morning, were caused by birds striking the lines, and both strikes happened in pretty much the same location.
Ketchikan Public Utilities Electric Division Manager Andy Donato says that KPU crews found the bird that caused the Saturday morning power outage. They hadn't yet found a body for Wednesday's, but "we do have some first-hand information that there was a large bang in the area of Herring Cove, so we suspect that there's a bird there. We'll just have to do a little closer looking."
Donato says it's possible for a bird to survive a powerline strike, but usually if you hear a bang, the bird has been killed. He says there have been other bird strikes in the past in that same area.
"I don't know why we're frying the birds, but this past weekend, Saturday, it was a seagull," he said. "Prior to that it was a goose, and we retrieved the goose. Now why is a good getting in the lines? I don't know."
Donato says Wednesday's power outage started just before 6:30 a.m. Most of the areas affected were back on within a half hour. The Mountain Point area had to wait a while longer, though, so a crew could investigate. Donato says that area was back on before 8:30 in the morning.
Donato says that Saturday morning's power outage, the one caused by the seagull in the same area, started at about 11 a.m. and was resolved in a short time period.
Bird strikes are a fairly common cause of power outages in the Ketchikan area. Donato says there's a protocol for any bald eagles that are killed.
"They have a pretty tight chain of custody," he said. "We call in, they send a box and we ship them off. The other critters, we discreetly take care of."
Another outage on Sunday affected a small area near the landfill. Donato says that one was brought on by a broken jumper on a distribution line and a burnt fuse.