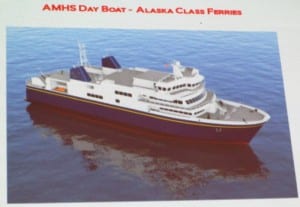 Saturday is a big day for Ketchikan's Vigor Alaska shipyard. A public laying of the keels is set for the two Alaska Marine Highway System day boats that will be built in Ketchikan. It was announced Wednesday that newly elected Gov. Bill Walker and first lady Donna Walker will attend the ceremony.
Doug Ward is Director of Shipyard Development for Vigor Alaska in Ketchikan. He spoke at the Chamber of Commerce lunch, along with Marine Highway System General Manager John Falvey.
Ward said a keel-laying marks the start of a new vessel's life.
"And certainly, this is a unique project because it's the first time in history that one of our state ferries has been built in Alaska," he said.
The keel laying is taking place sooner rather than later in order to beat a federal Environmental Protection Agency deadline, and save the state some money.
Falvey said that after the start of the new year, the state would need to purchase engines that have lower emissions. The state already has bought Tier 3 engines, which are less costly to operate, but the EPA requires that keels for Tier 3 engines must be in place before Jan. 1st. If the state failed to meet that deadline, it would need to purchase more expensive Tier 4 engines.
"We were racing the clock to be able to do that," he said. "That, in itself, saved us a lot of money. Initially purchasing the engines, and long-term on the engines. They are physically here. They're bought and paid for. They're all tucked away in hermetically sealed containers, so they won't have any problem with that."
New first lady Donna Walker and new Lieutenant Governor Byron Mallott's wife, Antoinette Marie Mallott, will be the sponsors of the two new ferries. Ward said the sponsors' initials will be welded onto the keels, and those initials will remain with the ships for the rest of their service life.
Ward said he's happy that the governor and first lady will be able to attend. The Mallotts were not able to join in, "but I'm reasonably confident that both of our sponsors and both the governor and lieutenant governor will be here four years from now, when we start breaking champagne on the front of two vessels."
The ships are due to be completed in 2018, one in the spring of that year and the second one in the fall. They will serve northern Southeast Alaska, running between Juneau, Haines and Skagway.
The ceremony starts at 1:30 p.m. Saturday at the Ketchikan shipyard.