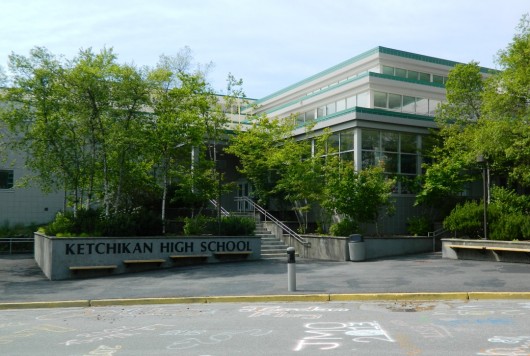 With little fanfare and just one dissenting vote, the Ketchikan School Board ratified a new three-year teacher contract Wednesday.
School Board Member Trevor Shaw cast the only no vote, although there was some concern expressed by other board members about the uncertainty of state and federal funding.
Here's Board President Michelle O'Brien, speaking to KRBD on Thursday: "Especially with the new governor, the thought was, initially, do we wait, maybe, until January, to get a better lay of the land as to what we may be facing going down the road."
But, O'Brien said she and the majority of the board opted to vote in favor of the contract, which she said is a fair agreement between the Ketchikan School District and the Ketchikan Education Association.
O'Brien notes that neither side got everything it wanted, but the negotiations process went smoothly.
"A lot of times, if you thing about it: When contracts are negotiated, you can come to a stalemate when people aren't willing to work collaboratively together," she said. "In this case, everyone did work together, and they came to a good compromise for everyone involved."
The agreement provides raises for teachers in each of the three years: One percent for the first year, retroactive to July 1, and 2.5 percent for each of the subsequent years of the contract.
O'Brien said that while the contract agreement is a big deal, it wasn't the most-discussed topic at Wednesday night's School Board meeting. She said the board talked quite a bit about Native education, and how to better serve the Alaska Native students enrolled in the district.
"So we kind of laid out the framework of where do we go from here?" she said. "If we're going to, indeed, attempt to incorporate Native languages in a fruitful way, not just a token way, in our classrooms and truly educate our students in that respect, how are we going to do that financially? How are we going to do that from a teaching perspective, and how are we going to make that meaningful for the students?"
In addition to Native languages, the School Board will be looking at the Tribal Scholars program, which is a collaborative effort with Ketchikan Indian Community.
That program offers classes to Native students, held at KIC's facilities, and led by certified teachers. The program is funded through a three-year Alaska Native Education Program grant, and this is the last year of that grant.
O'Brien said the district will try hard to find a way to continue the Tribal Scholars program, but funding is a potential roadblock. The district is getting ready to enter its annual budget process, and she said the School Board already has opened discussions with the Ketchikan Gateway Borough Assembly, which holds the purse strings on local funding for schools.
The Assembly has scheduled a two-day planning session in early January, and a big chunk of the second day has been dedicated to education funding.