A couple in Klawock has been engaged since 2001, but they couldn't quite come to agreement about what kind of wedding ceremony to have. They finally settled on a unique venue: Center court at halftime during Friday's home basketball game.
Lisa George definitely didn't want a traditional wedding, with the church or the dress or any of that frilly stuff. Jared Barlow definitely didn't want to go to the courthouse, with just a judge, a couple of witnesses and no fanfare.
How to get married then, has been a topic of discussion for the couple for quite some time. Last fall, they finally made a decision.
" Lisa said:'We'll have it at the first basketball game. There's your time and place. You set it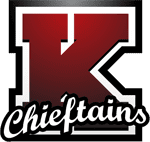 up.'" Said Barlow.
That's another thing. The bride wants nothing to do with planning.
"So, I've been putting all the plans together and arranging everything, and all she's got to do is walk in and show up," he said.
It's a bit of a role reversal. Traditionally, women tend to be more excited about planning weddings. But George said their relationship is not traditional.
"I'm more into the typical male role, if you want to put it that way," she said. "And he's more of the female that likes the lovey dovey, frilly things. It works for us."
George has had minimal responsibilities. She had to say yes or no to a few things, but that's pretty much it. There's no wedding dress, either, although there are rumors that a veil might end up pinned to her Klawock Chieftains jersey.
"I don't know," she said. "I just planned on being in my Chieftains gear, and whatever my cousins and aunties and relatives figure out, we'll go from there."
While George has stayed out of it, Barlow wasn't completely on his own when planning the wedding. Other residents of the tight-knit community of Klawock have rallied to help.
"It really hasn't been too much," he said. "The biggest issue that I've had was trying to make sure my family from out of town could come up."
That includes Barlow's father, who is performing the ceremony and had a long four-day trip from a village in Peru where he's now living.
Barlow said he met George online, as he was planning to move to Klawock. He had started his Alaska residency in Sitka, drawn there by his sister, who was attended Sheldon Jackson College.
"She sent me a bunch of pictures of the water and the hillsides, and so I said that's where I've got to go and I moved to Sitka in June of 1999," he said.
But, the tourism in Sitka was too much for him, so about a year later, Barlow moved to Prince of Wales Island. He wanted to find out more about Klawock before moving, so he did a search on Yahoo Messenger. That's how he met George.
"I've tried to duplicate that search since then, and have never been able to duplicate a search to find her anywhere," he said. "That one search was what did it for me in order to find her."
Now, about 15 years later, wedding bells will ring – or half-time buzzers will sound — as the couple finally ties the knot.
Friday's ceremony will take place after the boys' team plays – which includes George's 18-year-old son — and before the girls' game. The visiting team is the Kake Thunderbirds.