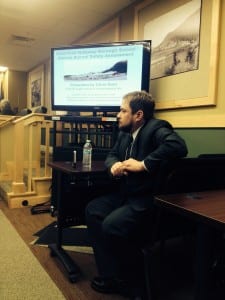 The first Ketchikan Gateway Borough School Board meeting of the new year on Wednesday night wrapped up some old topics such as the Safe Havens safety recommendation report and opened up new discussions including a Native languages curriculum and the upcoming budget.
Safe Havens International, a non-profit school safety center, spent about three weeks of 2014 in Ketchikan as well as several months off site compiling it's findings on the district.  Chris Dorn, the lead analyst, gave a largely positive presentation.

"You know a lot of times we find inspiring school staff and beautiful places around the world, but it's rare that we actually feel like we could raise kids in a school district – but we actually would feel trusting enough to have our kids raised here and that's because of the safety and willingness to approach safety," he said.
Dorn said the district was very receptive to the recommendations even taking immediate action on some smaller issues during his visit, such as precariously placed ladders . Other gaps in safety such as, updating security technology may take months or years to implement.
When a draft of the safety report was released in the fall the board began looking into purchasing cameras keeping the uncertain budget in mind. The budget came up informally several times throughout the night.
"It's a big deal and there's so much angst about the budget state wide and locally and it affects everything we do." Superintendent Robert Boyle said there's a lot more budget talk to come , and the board was just getting comfortable with the subject.
Another subject the board was trying out was a Native languages curriculum. Board Member Stephen Bradford said he wants to see the district facilitating the effort,
"but I would be concerned about trying to select which of the three and I'd also be concerned about the cost ."
Ketchikan is home to three indigenous Native groups Tlingit, Haida and Tsimpshian.
Peter Stanton, a Tribal Scholars teacher introduced himself to the board in Tlingit. He said respected the board's caution with the subject but he sees a sense of urgency.
"Within the last 10 years you had the first Native language die in Alaska and then I would also point out we have languages in Alaska that are in a lot better position than the three that are here around Ketchikan," he said.
The School Board agreed to address the topic with the Indian Policy and Procedures Committee. The next school board meeting is January 28th