Buckets of rain blew into Ketchikan Tuesday and Wednesday, leading to power outages, overflowing creeks, flooded streets and evacuations.
The National Weather Service warned us, and they weren't kidding. Heavy rain combined with strong wind gusts created some problems in Ketchikan.
On Park Avenue, Police Chief Alan Bengaard was checking out the raging Ketchikan Creek, and he summed up the issue: "It's raining really heavy and there's a lot of water."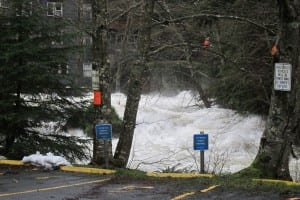 Officials closed the Harris Street Bridge off Park Avenue because of all that water, and because a large tree had fallen into the creek and was wedged under the bridge. Bengaard said the Creek Street pedestrian bridge further downstream also was closed because of logs tangled in the underpinnings.
Overall, though, he reported that damage to public property so far had been minimal.
Bengaard notes that some residents of low-lying areas were asked to voluntarily evacuate until the creek recedes.
"Ketchikan Apartments has been asked to evacuate, residents of Freeman Street have been asked to evacuate, we've been to most of the businesses on Creek Street, requested that they also evacuate," he said.
Creek Street is a historic boardwalk street built on pilings, right next to Ketchikan Creek.
Ketchikan residents are used to a lot of rain, and the creek has flooded out some areas before, but long-time residents agreed that this is the highest they've ever seen it.
Here's Sheila Miller, who has lived in Ketchikan all her life, and was working at Parnassus bookstore close to Ketchikan Creek: "I have never seen it out of the banks like it was on
Park Avenue, and touching the Eagles Club there, I've never seen it that high. They've closed the bridge and the boardwalk, anything on pilings, and evacuated the buildings behind us. I've never or heard of that being done before."
Ray Troll, who owns Soho Coho, an art gallery on Creek Street, was anxiously watching the creek water as the current raged against the boardwalk in front of his store.
"Totally freaked out, but I kinda knew this day would come when the creek shall rise," he said. "And it is risen. Big storm, big tide, bad combo."
Oh, yeah. Part of the problem was a 19-foot high tide, which was cresting as Troll watched.
"I've never seen it this high," he said. "I've been here 30-plus years. Like I said, I've been watching it – we've had our gallery down here for 20-plus years."
When asked if he has flood insurance, Troll said, "There's still half an hour to buy some, isn't there?"
Troll later reported that his store survived high tide.
Ketchikan's Assistant City Manager David Martin also was down by the creek at high tide – along with about half the town, it seemed. Martin says city crews were pretty busy keeping up.
"We are, at the moment, just trying to keep our heads above water, so to speak," he said.
Martin added that Ketchikan Public Utilities Electric Division crews also were working hard to keep the lights on for KPU customers.
"We've had at least four outages on the north end today," he said. Most of those have been trees (on the lines). I haven't heard of any landslides."
The city's Port and Harbors Department reported no damage at any of its facilities and no boats appeared to be in trouble, but Dan Burg of the Harbormaster's office did strongly recommend that boat owners check their vessels as soon as possible.
At deadline, the National Weather Service had issued a statement that heavy rains created increased flow in the spillways of Ketchikan Lakes Dam, resulting in the high flows into Ketchikan Creek. There had been rumors that the dam was compromised, but according to the National Weather Service report, the dam is working as designed and there is no threat of failure at this time. City of Ketchikan Assistant Fire Chief Jon Dorman confirms that the dam is not in danger of failure.