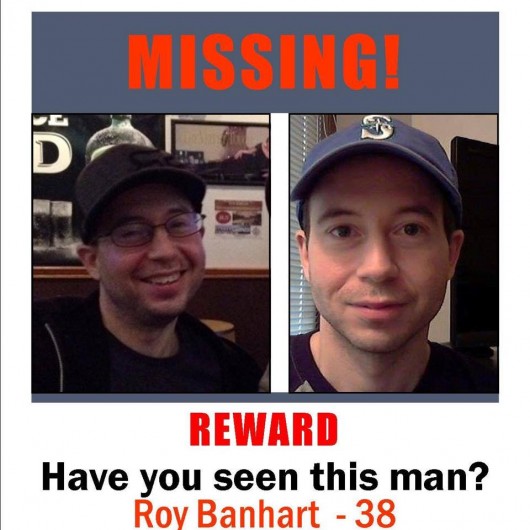 A Ketchikan man has been missing for nearly a month, with no evidence that he left the island.
Roy Banhart was last seen on Dec. 29. He had called for a taxi to take him downtown, and spent some time at the 49er Bar on Water Street. He left the bar, and was going to take a taxi home, apparently. But, witnesses told his family that Roy was intoxicated and belligerent, so the cab driver made him get back out.
That's the last reported sighting of 38-year-old Roy Banhart. And his family is anxious.
"He's on the quiet side. He's been known to disappear as far as contact for a short period of time, but nothing like this," said Banhart's first cousin, Irene Anderson. She lives in Seattle but is heading up the search efforts for the family.
Anderson said that in early January, they reported her cousin missing to Ketchikan's police department.
"(Police) have searched Alaska Airlines records, and Alaska Marine Highway records, and I've been in contact with local air taxis and InterIsland Ferry," she said. "There's no indication that he left town."
Ketchikan is on an island, and there's no way off except by boat or plane. The remaining explanations for what might have happened to Banhart are not good.
"I'm hearing that the last time he was seen by two different friends on two different occasions, he was not in a good frame of mind, and was intoxicated," Anderson said. "So, the concern is that he's in the water."
Anderson said it's possible that her cousin may have committed suicide, but it's also possible that he was murdered. She said she received information from someone who wants to remain anonymous.
"A party overheard a man down at Thomas Basin Dec. 29, referring to Roy. The conversation with another party indicated that this person was involved in some kind of harm to Roy, and indicated that there were gunshots fired," she said.
Police, though, say there's no evidence of foul play. Deputy Chief Josh Dossett offered a third possibility: that Banhart slipped and fell into the water. It's happened before to other people.
"We've had plenty of cases where someone who is intoxicated has fallen in the water and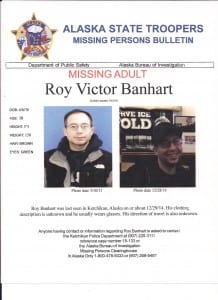 drowned," Dossett said. "At this point, we don't have anything to indicate, other than he was in the proximity of Kennedy (Street near the 49er), to indicate that. We're just following up on any leads that we get."
Dossett said the case remains open, and one officer is assigned to it. Other officers have helped when tips have come in, and police have searched in numerous locations around town without any luck.
If Banhart did end up in the water, his body may or may not have resurfaced by now. Dossett said it depends on various factors.
"It depends on the current, it depends how deep it is. The water temperature has a lot of effect on the body," he said. "We've had cases where people have not resurfaced for a few months."
There are some local residents organizing searches for Banhart separate from the police investigation, and Anderson hopes others might be willing to join in.
"If people would look at like, what if this was my brother, my cousin, my best friends, my coworker," she said. "We need that kind of coverage to help find him."
Anderson said that, in addition to the waterfront, groups are looking around trails, especially Deer Mountain, one of her cousin's favorite places to hike.
Anyone with information about Banhart is asked to contact the Ketchikan Police Department. For updates on search efforts, you can go to the Facebook page called Please Help Find Roy Banhart.