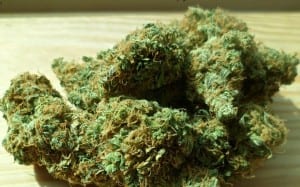 The Ketchikan Gateway Borough Assembly agreed Monday to form a seven-member Marijuana Advisory Committee to deal with issues that come up related to the recent legalization of marijuana in Alaska.
The proposal on the table was to create an eight-member board, two each from the cities of Saxman and Ketchikan, two from the Borough Assembly and two from the Ketchikan School Board.
However, the joint city-borough Cooperative Relations Committee on Friday unanimously recommended reducing the School Board representation by one person, making an odd-numbered committee. That would allow the new board to avoid tie votes.
The Assembly went back and forth on that issue. Assembly Member Glen Thompson wanted to instead increase the new board to nine members, with three from the Borough Assembly.
"Whatever we decide in terms of legislation that comes out of this body is the overarching legislation that will prevail over the City of Saxman, the City of Ketchikan and the school district," he said. "Having first-hand knowledge of some of these items that will come up will be beneficial to deliberations at this table."
That motion failed with only Thompson and Assembly Member John Harrington voting yes.
Assembly Member Alan Bailey, who is on the Cooperative Relations Committee, then made a motion to reduce School Board representation by one member.
Assembly Member Mike Painter said that makes sense to him. He said the Marijuana Advisory Committee will focus on how to deal with legalized marijuana, and that doesn't apply to students of the Ketchikan School District.
"That's black and white. It's against the law," he said. "That's not what this committee is about. This committee is tasked with coming up with our local input and provide input to the ABC board and the state people."
The ABC Board is the state Alcoholic Beverage Control Board. It has been in charge of looking into regulations for commercial marijuana in the state, but the governor recently introduced a bill to create a separate Marijuana Control Board.
The motion for a seven-member local marijuana board narrowly passed. Assembly Member Bill Rotecki was absent, so there were only six members present. It was a tie vote, with Bailey, Painter and Assembly Member Todd Phillips voting yes. Mayor David Landis broke the tie in favor of a seven-member advisory committee.
After the vote, Painter asked whether committee members and other borough officials should be subject to pre-screening for drugs. Borough Attorney Scott Brandt-Erichsen explained that the borough can't randomly drug screen its employees or elected officials.
"Private employers can require drug screening of potential employees," he said. "Public employers, however, because they are the government, are more limited by privacy rights of individuals."
Brandt-Erichsen said the only public employees that can legally be randomly drug screened are those in sensitive positions, such as law enforcement.
Ketchikan's new Marijuana Advisory Committee will gather local public input, look into what other communities are doing, stay up-to-date on legislative action related to pot, and provide recommendations for the four local government entities regarding policies.
Mayor Landis will collect nominations from the four governmental bodies, and will appoint members to the board.
Also Monday, the Assembly approved a new five-year license with Alaska Mental Health Land Trust for continued public use of the Coast Guard Beach Trail.
The borough's previous land-use license expired about a year ago. The new license will cost $500 a year.