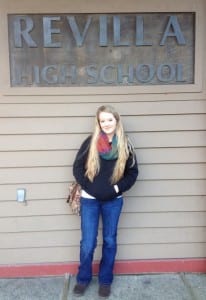 Eight members of the Ketchikan High School debate team took a trip recently to Anchorage for the state competition. Sophomore Audrey Kistler took first place in speaking points.
Audrey Kistler is the only member of the Kayhi debate team who doesn't go to Kayhi. She attends Revilla Alternative school, just a couple blocks away.
Kistler joined the debate team inspired by her older cousin. "She actually went to state and took fifth place, so hearing that from my family and looking at how successful she is now persuaded me to join." Her cousin works for NBC's 'Today Show', but a few years ago she was as a member of the Ketchikan debate team making the same trip to Anchorage.
When Dan Ortiz left his teaching position at Kayhi to be a representative in the Alaska State Legislature, he also left his post as debate coach. Leigh Woodward had been helping for a few years, but this year she stepped in as head coach.
"It's a different role. I have to make some of the hard decisions about who goes to the meets and who doesn't, who is going to be in which events, and even just preparing them for these incredibly hard topics."
Such as this year's topic for debate:  whether globalization benefits poverty reduction.
Kistler and her debate partner were eliminated in the quarterfinals. Speaker points is not a separate competition, but it's a distinct category within debate.
"There is two people per team, so it's how well  you ranked out of the four people. So, in every room you get one through four, depending on how well you did. I guess I just received some higher scores in most of my rooms, so I ended up taking first for speaker points. My partner, Cheyenne Matthews, was actually right behind me in second, so that was really cool."
Kistler said it meant a lot to her that the judges were impressed with her team's performance:  it showed they excelled in the way they debated, despite not placing higher. She said it also meant a lot, because the judges were members of the University of Alaska Anchorage debate team.
"They know what they're doing, which is a good change from having the volunteer judges we usually have at the regional meets. Because they can be anyone and so you don't necessarily feel like if you won or lost you earned it, but there you really did. You really felt like you earned it, or lost it."
Bella Posey placed fifth in dramatic interpretation and Cheyenne Matthews placed second in original oration. Now that state is behind them, the group won't be meeting any more this year, but they are recruiting for next year.
Kistler plans on debating the next two years and thinks her debate skills can help her have the same success as her cousin, but in a different field. She said she's thinking about becoming a lawyer.
"She'd be good at it. I'd certainly hire her," Woodward said.
Woodward recommends that debate team members read the newspaper and keep up with current events as off-season training, because the debate topics are always rooted in real-world issues .