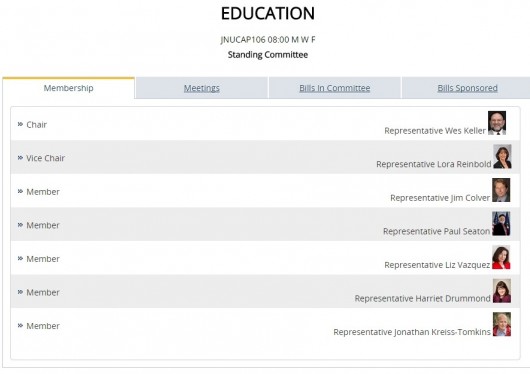 The Legislature's House Education Committee got an update Friday from the Alaska Attorney General's office on the status of the Ketchikan Gateway Borough's ongoing education funding lawsuit.
Assistant Attorney General Rebecca Hattan gave an overview of the case so far. She went through the history of the lawsuit, which was filed by the borough in January of 2014.
About a year later, Superior Court Judge William Carey ruled in the borough's favor on one major point: That the required local contribution for public schools is unconstitutional.
The state filed an appeal with the Alaska Supreme Court, and two days before the briefing, that court granted a stay of Judge Carey's ruling pending the outcome of that appeal. That made the briefing less dire than it might have been, because it gives the Legislature at least one more year with the current education funding system.
In her briefing, Hattan talked about the dedicated funds statute of the state Constitution that Carey ruled was violated by the required local contribution.
It's intended to prevent a situation where a new tax is created, and the proceeds of that tax is dedicated or promised to a specific purpose or outcome," she said. "The intention of the framers essentially was to maximize the Legislature's ability to spend money where in its estimation was needed at any given point in time."
In response to a question from committee member Jonathan Kreiss-Tomkins of Sitka, Hattan told the committee that the Alaska Supreme Court has agreed to take the case, and it appears that the high court wants to expedite it. A scheduling hearing was set for that afternoon to determine when briefings would be due from both sides.
Juneau Rep. Sam Kito III, who participated, but is not a committee member, asked whether a final ruling in the Ketchikan Gateway Borough's favor might affect other programs that require local buy-in, such as the Public Employee Retirement System, or PERS.
Assistant Attorney General Katherine Vogel, participating by phone from Anchorage, answered that it's possible.
"How much of an impact the decision has would really depend quite a bit on what the Supreme Court decides, how it words its decision, so it's somewhat unknown," she said. "But certainly, the dedicated fund provision has a lot of implications beyond the education arena."
The discussion ventured into speculation about what the state's options might be if it loses the appeal. Rep. Harriet Drummond of Anchorage said other states have completely different systems for funding their public schools.
"Suppose the state loses and school districts have to find other sources of revenues," she said. "We could turn them into independent school districts, looking to their local governments for taxes directly, and going to the ballots locally."
Rep. Paul Seaton of Homer offered another possible solution. Basically, he said, the state could levy a statewide property tax that would go into the general fund. That amount would not be dedicated to anything, but Seaton said the Legislature would have it available to fund education, or anything else.
"Although I'm worried about the case and having to redo things, it seems to me there are mechanisms without totally turning over the way in which districts are organized," he said. "I think that a fairly simple solution is evident."
Committee Chairman Wes Keller of Wasilla suggested that those kinds of proposals could wait a bit.
"It's a taste of discussions that we may or may not get into in the future," he said.
Statewide, the required local contribution provides about $220 million for public education.
Friday's briefing was broadcast through Gavel to Gavel. While not a committee member, Rep. Dan Ortiz of Ketchikan attended, and was invited to participate.