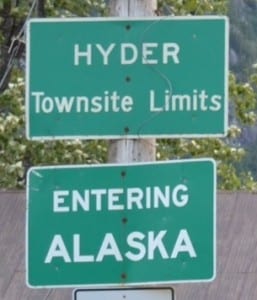 The Canadian Border Services Agency wants to close the border crossing between Stewart, British Columbia, and Hyder, Alaska, during nighttime hours starting this spring.
That crossing is the only road connection to the small community of Hyder, so it would effectively leave the residents cut off for eight hours every night.
Senator Lisa Murkowski learned of this issue, and on Friday, she sent a letter to Canada's ambassador to the United States, asking that the Canadian government rethink the closure.
Matthew Felling is a spokesman for Murkowski's office. He said a big concern is access to services, for both Stewart and Hyder.
"These two communities are not just neighbors, they are not just next door to each other, separated only by a border, but they are partners and they share burdens for one another," he said. "Hyder has a lot of economic activity there, and Canadians come across for goods; but Stewart is the home of the medical center, so when you are blocking a road in the middle of the night, you are potentially cutting off a lifeline in dire circumstances."
Felling said Murkowski earlier talked with other Canadian officials. Friday's letter was an attempt to raise the profile of the issue.
Felling said the proposed closure also could affect tourism, which gets busy right about
when the closure would take effect. Hyder sees many tourists during the late spring and summer, primarily because of the U.S. Forest Service's popular bear viewing area at Fish Creek.
Felling said Canadians benefit financially from Hyder's tourism, as well.
"This could actually be a cost-cutting move that costs Canada more money, so it could dig them deeper in the hole in terms of the community being economically impacted, not just the Canadian side but the American side, as well," he said.
Felling said the Canadian government should look elsewhere for budget cuts, to allow the Hyder border crossing to remain open 24-hours a day.