People who live in the D-1 Loop area of North Tongass Highway are used to hearing gunshots from the Ketchikan Rod and Gun Club off D-1, but Thursday and Friday, it will be a little more intense than usual while the local U.S. Coast Guard base conducts machine gun training.
Guns are loud. Machine guns are loud many, many times in rapid succession.
"This is annual training for us," said Kevinn Smith, senior chief boatswain's mate with Station Ketchikan. "We're required to recertify and certify our crews annually on the M240-Bravo."
The M240 is a type of machine gun that's commonly used by the U.S. military, and those who live in Southeast Alaska have probably seen the guns mounted on small Coast Guard boats as they escort cruise ships.
"If it came time where we had to protect a cruise ship or the port, it's a tool for us to use, which is why we're out here, spending the time training our crews on how to efficiently manage and use the weapon," Smith said.
Ever since the 9-11 attacks and heightened security measures nationwide, the Coast Guard has enforced a 100-yard buffer around the floating cities that drift through Alaska's Inside Passage each summer.
But, so far, fingers crossed, knock on wood, the M240s have remained silent on the water.
"We carry it on the boats all the time, but as actually saying we're firing it, on the water, we've never had to do it here," he said. "We've never had to engage another vessel with it."
Smith says it takes about six months to go through the entire machine-gun certification process. Training directly with a weapon is just a small part of that process.
Petty Officer Matthew Degnon was among the Coast Guardsmen at the shooting range. He'd just finished up about 10 minutes firing the weapon, and he definitely isn't a novice.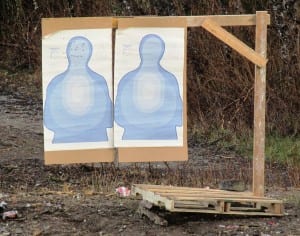 "I've gone through different types of training regarding the 240 probably four or five times in my career so far," he said. "It's a necessary fun."
It did look kind of fun, although everyone is required to wear double hearing protection – ear plugs and ear muffs – because it's so loud.  But, Degnon says, it's not THAT loud.
"It's actually no noisier than your common hunting rifle," he said. "It's just fired in succession, so it sounds more aggressive."
That aggressive sound has led to some complaints in previous years. Smith says that they do have a gun range at the base, but it's not designed for machine-gun training. At other bases, the training can take place 12 miles offshore, but that doesn't really work for the Ketchikan crews. So, they come to D-1.
Smith says they do recognize that machine gun fire is probably annoying to neighboring homeowners.
"This is why we only do it annually," he said. "We don't do this every couple of months, because we understand it is loud and it is an inconvenience for the neighbors. We appreciate their support and understanding while we do this for just one or two days."
And this year, Smith says, they sent out public notices so all the neighbors would have fair warning before machine guns started going off just down the street.
The machine gun training is set for 9 a.m. to 3 p.m. Thursday and Friday, and for two days next week, on Tuesday and Wednesday.  During the training, the Ketchikan Rod and Gun Club is closed to the general public.