Prince of Wales Island is home to at least 300 veterans of foreign wars, but there's no VFW post on the island. At least, not yet.
A group of island vets has gotten together to form a new Veterans of Foreign Wars post. Organizer Jan Trojan is herself a veteran of one of the Iraq wars. She says it can be challenging to navigate the federal Veterans Affairs to obtain services that vets are entitled to receive, such as h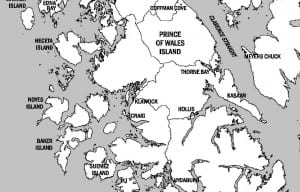 ealth care.
A local VFW is a great central location for veterans to get help, she says, and others on Prince of Wales Island have offered assistance.
"Gretchen Klein of the Prince of Wales Health Network has offered us an office, so once a week, we get to do a veterans center, where we can copy, fax and do all the good stuff for the veterans," Trojan said.
Trojan says First Bank also is providing assistance to the group, which isn't officially official quite yet. They met Tuesday night with Susan Yeager of the Alaskan Veterans Affairs Healthcare System, and put in a request with her. Storbakken says they hope to hear back soon.
Once it gets the stamp of approval, Trojan says organizers want to start a support group for veterans suffering from post-traumatic stress disorder, or PTSD. Storbakken says that of the 300 known veterans on Prince of Wales, most served during the Vietnam War, and have never received services for PTSD.
"I have never seen so many Vietnam veterans like I've seen out here," she said.
She says the island probably attracted the Vietnam-era veterans because it's quiet and remote.
Ron Leighton, president of the Organized Village of Kasaan and a Vietnam vet, says he also wants to offer substance-abuse support for veterans. He stressed that the VFW and the American Legion on Prince of Wales are reaching out to all island vets who need help.
This story has been updated to reflect Jan Trojan's married name.