Ketchikan residents have been encountering art in unusual places. It's part of an experiment that the Ketchikan Area Arts and Humanities Council has launched, to see whether unexpected art is welcome in Alaska's First City.
Passengers using the funicular to travel 130 feet up from sea level to Ketchikan's Cape Fox Lodge for lunch recently had some entertainment during the short ride.
Musicians Dave Rubin and Chazz Gist are tucked into the small space with a guitar and bass, playing music for 30 minutes on two consecutive days.
It's a random act of art.
"We are really excited about the random acts of art," said Arts Council Executive Director Kathleen Light. "These are small experiments that we are doing throughout the community. We're trying to place artists in unusual places, to see how people react. Do they appreciate it, do they like it, or does it make them uncomfortable and they wish it wasn't there?"
It's a six-week process, and when it's over, the arts council hopes to have a better idea of what the general community thinks about art.
Light said the experiment kicked off with Wear Your Wearable Art to Work
Day, and at least three businesses participated. The annual Wearable Art Show is a hugely popular event, and Light said tying the first random act in with that event was a great way to connect with the community at large.
They also filmed a short video to accompany that event.
"We had a little parade of wearable artists that walked to work that day, left from the harbormasters and walked to work, and put that up on Facebook, and we did not expect the response from that," she said.
The video, filmed in a typical Ketchikan downpour, went viral, with more than 6,000 views.
After that positive start, the Arts Council arranged for Bryan Elliot to work on art in the hallway outside of a Ketchikan Gateway Borough Assembly Meeting. Lance Bifoss did the same outside of a Ketchikan City Council meeting a couple days later.
And then, before a regular Rotary lunch meeting, and the following day's Chamber of Commerce lunch, Rubin and Gist played music for people riding the funicular.
"And that's really interesting," Light said. "It's a really enclosed space, and you have to pay attention to the art."
The first day, there were a few passengers who rode with the musicians. The second day, though, it was raining, so foot traffic was light and their only audience was local media. I asked what the reaction had been from passengers the previous day.
"They were somewhat surprised, but seemed to enjoy it," said Rubin.
Gist added, "They might have been scared at first, because they don't know if we're professionals or if we've vagabonds in here, trying to trick them and steal their money."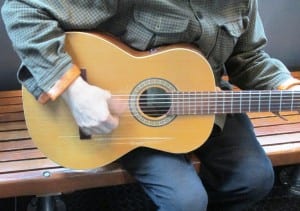 The Arts Council's experiment with random art will wrap up at the end of April, so there are a few more events planned. Light said they are collecting data at each event, using a few simple methods.
"Yes I liked this, no I didn't like this ways to vote," she said. "We are taking surveys in places where people are captured. We're going to have more impactful ways to collect that data at the other random acts."
The Arts Council also is filming some random acts, but won't use the recordings publicly without permission from the people filmed.
After the six-week experiment is complete, Light hopes community members will have enjoyed it enough to continue creating Random Acts of Art on their own.
Random Acts of Art is part of the New Pathways Alaska, a three-year program that the Ketchikan Arts Council was chosen to join. The program helps nonprofit groups find ways to remain relevant to their communities. Click the link for an earlier story about the New Pathways program: https://www.krbd.org/2014/06/20/arts-council-picked-for-new-pathways-program/