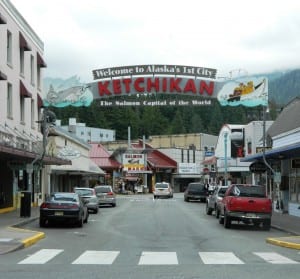 The Ketchikan City Council will get a second look Thursday at two ordinances that aim to curb hawking and congestion on city sidewalks as the busy summer tourist season approaches.
The first ordinance is called "Off-Premises Commercial Solicitation Restrictions," and would amend city code to prohibit businesses from soliciting customers anywhere outside of an enclosed space, such as a store. The ordinance includes fines that start at $200 for the first offense.
The ordinance would not apply to tour vendors who lease booth space on the city-owned cruise ship dock. However, City Manager Karl Amylon writes in a memo to the Council that if the ordinance passes, he will amend the tour and food vendor rules to mirror regulations in the ordinance.
That ordinance led to quite a bit of public comment during the Council's last meeting, with many residents and shop owners applauding it. But some local tour vendors said the new rules would hurt their businesses.
The second ordinance was less controversial. It would prohibit stores from doing business in a way that likely would lead to blocking the sidewalks.
Two other motions on the agenda are related to the city's new water treatment plant, which needs a tweak to fix an ongoing issue with byproducts. The first motion is a $140,000 contract with Dawson Construction to put up a new building for the planned change.
The second is a contract for engineering services with consultants CH2M-Hill for up to $150,000.
Also Thursday, the Council will consider hiring a recruitment firm to help the city find a new public works director and a new KPU Electric systems manager. Both positions have been vacant for a while and the city hasn't had any luck filling them.
Thursday's meeting starts at 7 p.m. in City Council chambers. Public comment will be heard at the start of the meeting.