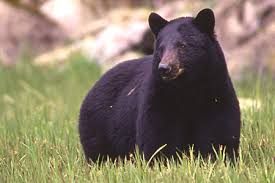 Bears are coming out of hibernation, and it's time to take action before they become problems in the neighborhood.  Boyd Porter is the Ketchikan Area Wildlife Biologist with the Alaska Department of Fish and Game.
"Whether you're in the city or in the borough, it's time to clean up your yard, put the bird feeders away, take the bird seed down, and put the pet food inside away from where bears can have access to it. It's usually up on your deck where you don't want the bear to come."
Porter says it's also important to wait until the morning of pickup to put out trash. He says to use ratchet straps, not bungee cords, to secure the lids.
"A racket strap is what you'd use to cinch a boat down to a trailer. It clicks when you racket it and it holds the lid securely on the can so the bear cannot get to it. If they work at it a long time, they may, but you're going to deter them and they're going to move on to someplace where it's easier to get to the food."
Porter says ratchet straps are available at most hardware and marine stores.
Though some have a secure place to keep trash until pickup day, Porter acknowledges many may not have a garage or shed.  He says there are other options and ADF&G can help.
"We have some fencing plans and we have some other ideas that you could use to secure your cans while you're storing the garbage. Things you could do…you could potentially use electric fences to keep bears out of your garbage and moving along in a natural foraging pattern, instead of coming down into town and into residential areas counting on finding really good stuff to eat in our garbage cans."
Porter says bears that hibernate in town are already coming out of their dens and getting into neighborhood trash.  He says those in the natural environment outside of town usually emerge the last week of April or the first part of May. Porter says it's important to be diligent before bear problems occur.
"Now is the time that you set the pattern for the rest of the beginning of the summer. If you secure things right now, you're going to avoid all kinds of problems that are going to persist into the summer."
Porter says bears conditioned to scavenge for trash in neighborhoods eventually will be killed.
"Some people would say, "Who cares? They're garbage bears." But we're creating those and we're providing the death sentence for those bears."
He says there are usually just a few people in a neighborhood contributing to the problem, and encourages residents to educate neighbors who may be new to town or unaware of what to do.
Those failing to secure their garbage can be fined. Bear problems in the city should be reported to the Ketchikan Police Department and those in the Borough to the Alaska State Troopers. Porter says concerns can also be reported to ADF&G.