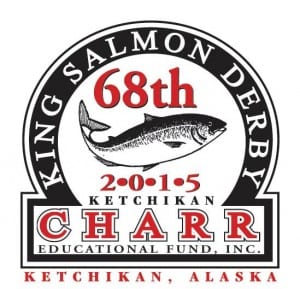 A 14-year-old fisherman has taken the top spot in this year's Ketchikan King Salmon Derby with a 40.3-pound fish.
Duseigneur Paolo reeled in his winning king on May 25, the first weekend of the three-weekend derby.
Derby coordinator Russell Thomas said this year's event went well, with more participants and more fish caught than in recent years. He notes that  Paolo is the second young fisherman to win the derby. A few years ago, he said, a10-year-old took home the top prize.
"The overall goal of making this a family event that kids and adults can participate in together has been reached, just by looking at the number of participants on the youth ladder and the fact that we've got another youth that's won," Thomas said.
Paolo's fish is the smallest ever to win Ketchikan's derby in its 68-year history. Thomas said the winning fish have been getting smaller over the decades.
"I don't know the science behind it, but if you look anecdotally, there used to be 50- and 60-pounders that consistently won, and now we consistently see 40-pounders," he said.
While fishing is officially over, the results for the 2015 Ketchikan King Salmon Derby will
remain unofficial until the June 19 awards ceremony. Thomas said that gives the derby committee time to verify information for all of the many prize categories. It also allows time for other derby participants to contest an award.
"Somebody could make an allegation of some sort, which is well within their right as a derby participant," he said. "They could file a protest. When those are filed, the derby committee goes through a process of trying to gather as much information as they can and then determining whether or not an entry is going to count."
The grand prize is more than $10,000 cash, plus two Alaska Airlines tickets to anywhere the airline flies.
The unofficial results place Steve Parker second on the ladder with a 40.2-pound king. Michael Brooks is third with a 39.6-pounder.
Paolo leads the youth ladder, as well, but because he's taken the grand prize, the top youth prize instead will go to Vanessa Wood, who hauled in a 27.3-pound king. Next up on the youth ladder is Rita Burke with a 26.2-pound fish.
You can see all the results listed on the Ketchikan King Salmon Derby Website: http://www.ketchikankingsalmonderby.com/leader.html