It's tourist season in Ketchikan, which means downtown bathrooms are in high demand. The Ketchikan City Council will vote Thursday on a proposed $500 grant to a local church that offers free public restrooms.
During the June 18 Ketchikan City Council meeting, Hunter Davis of St. John's Episcopal Church asked the city to help them continue to provide bathrooms for the visiting public.
"As far as I know, we are the only place downtown besides the museum and the (Ketchikan) Visitor Center that doesn't charge people to use the bathroom," he said.
Davis said there are up to 100 people who use the church's two bathrooms each day. He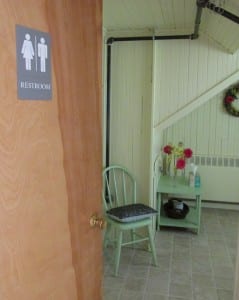 asked for $500 from the city's share of the state cruise passenger head tax fund.
"Mainly for supplies and our sexton, which – instead of twice a week, it's daily – (he's) having to come clean up," Davis said.
The motion on Thursday's Council agenda would transfer $500 from the head tax fund to the city's Tourism and Economic Development Community Promotion account, and from there the money would go to St. John's.
Also Thursday, the Council will consider two resolutions that would put city projects on the state's list for financial assistance in Fiscal Year 2017. The first resolution authorizes city officials to apply for $1 million to help pay for replacing water and sewer pipes on Schoenbar Road.
The second resolution also authorizes an application for $1 million, to help pay for replacing water and sewer pipes, and storm drains on Chatham Avenue.
Thursday's Ketchikan City Council meeting starts at 7 p.m. in Council chambers. Public comment will be heard at the start of the meeting.