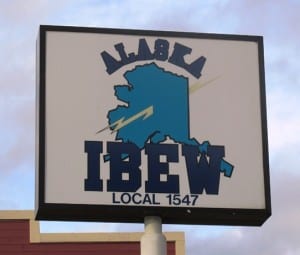 Ratification of a new three-year contract with the International Brotherhood of Electrical Workers is in front of the Ketchikan City Council Thursday night.
The current contract expired on Dec. 31. If approved, the new contract will be retroactive to the start of this calendar year.
According to a memo from Human Resources Manager Marie Miller, the contract includes a 1.6 percent raise this year, and 2 percent raises for each of the following years.
The negotiated agreement also increases compensation for employees who are on call, and reduces the health insurance co-pay for union members by about $37. That will bring the monthly co-pay to $167 per month.
Miller estimates that the additional cost of the contract over three years will be about $340,000.
Traditionally, the City of Ketchikan provides similar pay and insurance adjustments to non-union employees following a successful negotiated agreement with IBEW. To that end, another motion on Thursday's agenda would provide those benefits. Miller writes in a memo that the additional cost of that for the first year would be about $123,000.
Also Thursday, the Council will consider an $87,000 contract with Welsh Whiteley Architects to design the Centennial Building gallery expansion and restroom renovations. The aging city-owned Centennial Building houses the Tongass Historical Museum.
The Council meeting starts at 7 p.m. in City Council chambers. Public comment will be heard at the start of the meeting.