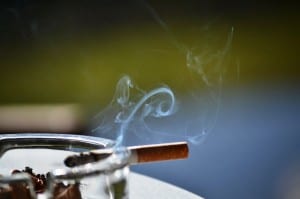 A proposed $3-per-pack tobacco tax has been indefinitely postponed by the Ketchikan Gateway Borough Assembly.
Assembly members voted 4-3 Monday to postpone. Three members consistently have opposed the borough-wide tobacco tax. Those three — Glen Thompson, Mike Painter and Jim Van Horn — were joined last night by Todd Phillips, who previously supported the tax.
Phillips said he's been thinking hard about the proposed tax – which has been touted as a way to reduce youth smoking rates — and changed his mind.
"Are we really here as a body to tell people what health choices to make? If we are, make them illegal," he said. "Alcohol can harm you, make it illegal. Are we going to start taxing candy? Are we going to start saying anyone who weighs over 200 pounds at a certain height can't have Obamacare?"
The tax would have charged $3 per pack of cigarettes, or 75 percent of the wholesale price of other tobacco products, including e-cigarettes. During its last meeting, the Assembly had added a clause that 50 percent of the net proceeds would go toward smoking cessation programs, or to services for people with smoking-related health problems.
Assembly Member Alan Bailey, who has supported the tobacco tax, said he remains concerned about Ketchikan's youth smoking rates.
"And personally, I think I've got a commitment to do something about youth and smoking. And I have the ability to do that," he said. "This has been quite a challenge. It's been extraordinarily controversial. I've appreciated a lot of the factual information that was brought forward concerning use of cigarettes and how that affects our community. The information was received, and now I get to have a challenge."
It still possible that the Ketchikan City Council will decide to impose a tobacco tax, but that would apply only within city boundaries.
Also Monday, the Assembly approved a motion establishing a sales tax holiday on Oct. 3.
Chelsea Goucher of the Ketchikan Chamber of Commerce spoke before the vote, asking Assembly members to support the proposal. She said it is a "gimmick," but it's one that could help encourage people to rediscover how much is available locally.
"Keeping people in business is absolutely important for our community," she said. "The business owners are the folks that are supporting the basketball team, that are sponsoring the different theater events, that are donating money to the performing arts center, that are doing all these different things that our community relies upon. They're also the folks that paying a lot of the property taxes and doing a lot of the investment in our community and our community's workforce. Small businesses, unequivocally, are a huge bellwether of the health of the entire community."
The motion passed 5-2, with Painter and Thompson voting no. Painter pointed out that last year's sales tax holiday meant that the city and borough did not receive about $80,000 in sales taxes.
Oct. 3 is the Saturday after the State of Alaska will distribute this year's Permanent Fund Dividends on Oct. 1.