Three Ketchikan residents were charged this week with violating their paroles by allegedly using or possessing methamphetamine.
Sarah Purcell, aged 35, was convicted of burglary, theft and forgery when she stole from her job back in 2011.
Purcell violated parole three times before the latest incident, which had landed her more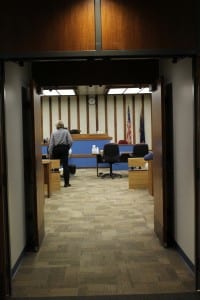 work service and more jail time. After her probation violation in June, Judge William Carey gave her three weeks to complete an assessment at the Gateway Center for Human Services to get her on track toward drug rehabilitation. Purcell didn't make it to Gateway in that time, and a urine test from July 21st came back positive for meth. Her probation officer suggested a $5,000 bail. Judge Carey agreed.
"She has a methamphetamine addiction. Sorry ma'am, I can look at you and see it. And I hate to say that, but it's a fact. I think she's a danger to herself. I think she's a danger to her community, and I don't think that $5,000 is out of line."
In an unrelated incident, a Ketchikan couple is charged with violating parole after they were found with meth, illegal prescription drugs, and drug paraphernalia.
Police say they found Lisa Soares with four small bags and one "bulk quantity" of methamphetamine, totaling more than 57 grams. Soares told police that she had done meth with her fiancé, William Riggs, aged 53, who has prior drug possession charges.
Police say they found Riggs with a bulk stock of Ziploc bags, but no actual drugs in a car he and Purcell took to California just days before.
A search of Riggs' apartment allegedly yielded two un-prescribed tablets of tramadol, which Riggs told police came from a friend of Purcell's. Police say they also found two glass pipes in Riggs' sock drawer. Court documents say one pipe was found in pair of what looked like women's socks, while the other was found rolled in a white tube sock labeled "Billy." The pipe in the "Billy" sock tested positive for meth.
Soares' bail was set at $2,000 Monday, while Rigg's was set at $2,500 on Tuesday. Judge Carey, once again, couldn't be swayed by the public defender to lower the bail.
"There's apparently using going on, or you could draw that inference anyway, from the information and that's specifically the conduct that we're trying to stop. So I think he's a danger to the community. I don't think $2500 is out of line, and that's going to be my order, subject to review by Judge Stevens."
Purcell's next court date is Sept. 1. Riggs and Soares' next court date is Sept. 8. Both cases will be held in Ketchikan Superior Court.
As of Wednesday, both Soares and Riggs were out on bail.