The Ketchikan City Council has a short action agenda Thursday, most likely in anticipation of three planned executive sessions to discuss labor negotiations.
The executive sessions will allow Council members to talk about strategies and give direction to city negotiators who are working toward new contracts with the Ketchikan Professional Firefighters Association, Public Safety Employees Association and International Brotherhood of Electrical Workers.
Also Thursday, the Council will discuss scheduling a special meeting to talk in depth about the costs of overtime in various departments, and how to potentially reduce those costs.
Included in the agenda packet for the Council is a letter from the Ketchikan Area Arts and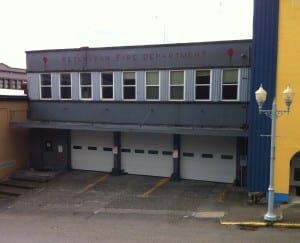 Humanities Council, asking that the city put the old Main Street fire station up for sale, to establish true market value of the property; and for the city to put out an RFP to see how feasible it is to – as one Council member has suggested – use the space to house a central biomass heating facility.
The Council recently rejected a proposal to transfer ownership of the property to the Arts Council to establish an artist residency program. One of the reasons given was potential interest by private businesses in purchasing the old building, which the city has used as storage for the past four years.
The Arts Council letter suggests that if the city can't sell the building in a certain period of time, the Council reconsider the artist residency proposal.
The Council meeting starts at 7 p.m. Thursday in City Council chambers. Public comment will he heard at the start of the meeting.