A water main break at the intersection of Washington Street and Tongass Avenue slowed traffic this morning as City of Ketchikan crews worked to repair the pipe.
The City of Ketchikan has been slowly replacing its old cast-iron water mains, installed in 1964, because – as this recent incident shows – they don't take stress well.
This particular break, like all the others that have happened over the past few years, was the result of the ground shifting under the pipe. That means the pressure around the pipe was no longer uniform, and that caused the break.
"The call came in to notify us that there was a leak, it was about 2:30 this morning," said Water Division Manager John Kleinegger.
He said he's grateful to the city resident who reported water bubbling up through the pavement at that intersection. Crews quickly mobilized to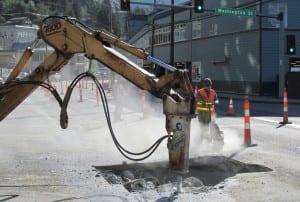 shut off water service and start repairs.
Customers along Washington Street from Tongass to First Avenue were affected.
"We got the water main repaired, so the people that were involved on that block are back in service; that was about 8 o-clock this morning," Kleinegger said. "Now, the road repair has to be made"
Crews had to tear up the pavement to get to the broken pipe, leaving a large hole in the middle of Tongass Avenue. The road will have to be repaved, which means the pipe problem will continue to affect traffic for a few more days.
"So, the concrete will be poured about noon today, but then it needs three-four days to cure to build adequate strength, so the restricted traffic patterns that you see now will continue until Tuesday, Sept. 8th," he said.
Kleinegger said the city has about 6 miles of the old cast iron water mains remaining in the ground. He says they'll eventually replace all of it with modern pipes that stand up better under pressure.