A group that wants to create a new home-rule city from what's now the North Tongass Service Area plans to have an official charter petition ready for signatures by mid-October at the earliest, but perhaps later in November.
One member of that group is Glen Thompson, who also is a Ketchikan Gateway Borough Assembly member. Thompson attended Wednesday's North Tongass Service Area Board meeting to provide information about the proposal to board members, and to field questions.
The small group of North End residents worked on a home-rule city proposal for about a year before going public with the idea in late July. Thompson said the concept came about because members of the group want more local control of how the North End is managed.
"For instance, do we want the borough to continue to tell us we have to pay $15, now $18 a month for our garbage fee," he said. "Do we want the borough to continue to tell us we need to pay $19 a month for septic tanks. Do we want the borough to continue to decide how many firefighters or EMTs we need or how to pay for them? Just last night, actually Monday night, they basically gutted the service areas."
Thompson was referring to an ordinance that the Assembly approved at its last meeting. That ordinance states that service area boards are advisory, and final decisions rest with the borough.
Thompson also argued that becoming a city would allow the North End to avoid City of Ketchikan fees for services used by all borough residents, such as the non-areawide library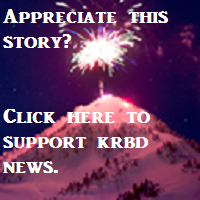 fee.
Library funding has been a point of contention. The city operates the Ketchikan Public Library, and has a Memorandum of Understanding with the Ketchikan Gateway Borough. Under that, the borough provides per-capita funding to the city for library services for residents outside of city limits.
The proposed City of Ward Cove includes an estimated 3,250 residents. That many people contributed a total of about $250,000 of the borough's $400,000 contribution to the public library this year.
Thompson said the money North End residents now pay to the library would go toward the new City of Ward Cove expenses. The new city would then need to decide what to do about library services.
Thompson added that incorporating sooner rather than later would protect the North End from potential annexation by the City of Ketchikan.
"People think they can't do that anymore. Actually they can," he said. "It's not very difficult. They can just go through, declare an emergency, go to the Legislature, say we need to annex them and it can happen."
The proposed new city would encompass 42 square miles of land, three square miles of water and tidelands; and property with an assessed value of $350 million.
The petition calls for a strong-mayor form of government, which means the mayor would act as the city manager. The city also would have five elected council members, serving two-year terms. Thompson said every council vote would need a two-thirds majority to pass, and any new taxes also would need to be ratified by two-thirds of voters within the new city.
North Tongass Service Area Board Member Don Westlund had a few concerns about the proposal. He said he doesn't like a strong-mayor form of government, and he's worried about the costs.
"When I look at this, adding up all the figures, I'm paying more becoming a city, and independent city, than I am staying with the borough," he said.
Those costs include new administrators, an attorney retainer fee, stipends for new city council members, and finding a place for administrators to work.
Westlund said the service area now pays the borough about $48,000 a year for administrative services.
"And looking at – I can't remember exactly the figures – but we're talking a considerable amount of money to hire a treasurer/secretary, clerk and the mayor," he said. "A considerable amount of money. And having to supply office space for them, that we don't have."
Thompson responded that there won't be that much administrative work for the new city, because the government would be kept minimal. He said a desk in a corner at the fire station likely would be adequate office space.
Thompson said there also are opportunities not included in the proposal for a new city to generate new revenue, such as applying for a share of the state cruise passenger vessel tax.
Then there's the question of adding another city on an island of roughly 13,000 people. Service Area Board President Dave Albertson said he's talked with other North End residents about the proposal.
"One question I hear a lot is do we really need a fourth city government?" he said.
Thompson answered: "No."
Thompson was part of a push years ago to consolidate local governments, which would have reduced the number of cities. But, he said, while creating a new city might not be necessary, it would allow the North End to move forward more quickly with projects that he said have been "stymied," such as a wastewater system.
Residents in that area use individual septic tanks for waste, and must have the tanks pumped every few years. The septic fee Thompson referred to earlier goes toward that pumping service.
After Thompson's presentation, I asked the three board members present their opinions on the proposal. Albertson said he was initially very skeptical, because the plan was a surprise to everyone but the small group that drafted it.
"It just when whoosh – all of a sudden it came out. I get why – you've got to start somewhere, but North End tends to be paranoid. So, everybody is like: 'This is happening now.' I'm like: 'I don't think it can,' but that's kind of scary that it could," he said. "But, hearing how he describes the process and what they're thinking, I think it's a good idea of something to talk about. I'm not sure I'm really for it, but I'm not absolutely against it."
Board Member Floyd McClellan also said he was initially concerned, but was less skeptical after hearing from Thompson. Westlund said he's still unhappy with some of the financial implications, and said there will need to be lots of discussion on the topic, but:
"I see the pros to doing this because we are on the North End, and whenever we vote on something that's for the North End, seems that everybody's got their opinion south of us, so it'd be nice to have our own opinions and votes," he said. "I could be swayed."
Thompson said the group that drafted the proposal is tweaking it to make some numbers consistent throughout. They also plan to wait until after the coming Oct. 6 election in order to get the most current number of participating voters in the service area.
When the petition is officially released, it will need signatures equal to at least 15 percent of the voters from the most recent election to move forward.
Thompson said there also will be public hearings on the proposal, so Westlund's desire for more discussions will be granted.