To say Prince Rupert, British Columbia, has an active port would be an understatement. Its port is bustling, and it has plans to become even busier.
About a hundred Alaskans, in Prince Rupert for the recent Southeast Conference fall meeting, boarded the Prince Rupert Adventure Tours catamaran for a two-hour sail around one of Canada's largest ports.
Prince Rupert's port has grown in the past decade, ever since it opened up the Fairview shipping container terminal, an impressive operation that connects Canada's railroad shipping system to marine shipping throughout the Pacific.
"The port itself actually ships about $5 billion worth of Canadian goods to a primarily Asian markets on an annual basis," said Ken Veldman, public affairs director for the port. He narrated the catamaran tour.
"It's the third-largest port in Canada, when measured on containers," he said. "When measured on straight volume, it's actually the fifth-largest. But with the development of one more terminal, we'll run solidly into the second-largest port in Canada."
The first point of interest we passed was the relatively new wood pellet terminal, which started operations in fall of 2013.
"On your left up here, you'll see the galvanized metal silos, that's the Westview wood
pellet terminal that's run by Pinnacle Energy," Veldman pointed out.
Soon after entering the outer harbor, which is Chatham Sound, we come to the container terminal. Multiple mechanized arms load hundreds of metal containers onto a huge cargo ship. The containers were brought there by train, and the railway leads directly to the facility's container yard.
"So, it's double-tracked, which gives us a lot of capacity to work, particularly into the container terminal," Veldman said. "And generally speaking, across Northern BC on the CN mainline, they've literally put hundreds of millions of dollars into their track into the last 10 years."
The ship, the Hanjin, is bound, most likely, for somewhere in Asia. Although ships that load up in Prince Rupert also sail south, to Central and South America.
Next up is the grain transfer facility, on Ridley Island.
"If you look to your left, you see a vessel being loaded with wheat. It's a bit of a cloudy thing that happens," Veldman said. "Prince Rupert Grain was established on Ridley Island in the early 80s. It has a capacity of 7 million tons a year. Last year, it actually had a record year, where it started to approach that 7 million number."
Ridley Island has been turned into an industrial development zone, and also is the location of a coal terminal – another large operation.
"This has an amazing capacity, this facility, of 18 million tons," Veldman said of the coal
terminal. "Its record year is 12 million tons. If any of you know the coal market, it's getting killed right now. So, even though in 2013 this did 12 million tons, this year, probably about 4 million tons."
Veldman said that diversifying what is shipped out of Prince Rupert has helped stabilize the economy, so when coal is down, for example, the uptick in grain makes up for that loss.
There are plans in place for a potash facility on the island, said Veldman, which will add to that diversity. Potash is a potassium-rich material most commonly used in fertilizers. It can be mined or manufactured.
Another plan under development for the Port of Prince Rupert is a liquefied natural gas facility. No, wait. Make that two liquefied natural gas facilities.
"At this end of Ridley Island, there's an LNG proposal made by BG Group that is going through its investigatory process right now," Veldman said. "And across the channel on Lelu Island is an LNG facility by the name of Pacific Northwest LNG, that's being led by a Malaysian company called Petronus."
The port also is home to an Alaska Marine Highway System ferry terminal, the BC Ferries terminal and a small cruise ship terminal.
While cruise traffic is a huge part of Southeast Alaska's economy, it's a relatively tiny portion of Prince Rupert's port. One ship can dock at the community's Atlin Terminal, which is right next to the small Cow Bay area, with shops and restaurants geared toward visitors.
According to the Prince Rupert Port Authority, seven ships visited the community this year, bringing 3,622 passengers. That year's-worth of cruise passengers for Prince Rupert is a slow day in Ketchikan, which this year saw nearly 40 ships that made about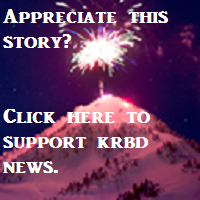 500 port calls, bringing an estimated 900,000 tourists.
That's one marine industry where Southeast Alaska has surpassed Prince Rupert. The rest of Prince Rupert's port, though, has made up for that from an economic standpoint.
"In our last fiscal year, we did over 20 million tons of cargo. Twenty million tons in terms of local economic benefit equates to about 3,000 direct jobs, about $200 million in wages and about $81 million in taxes to the three levels of government," Veldman said. "That's all in Canadian dollars, of course. I think the equivalent is about $463 US these days?"
Follow this link to learn more about the Port of Prince Rupert: http://www.rupertport.com/