PeaceHealth Ketchikan Medical Center announced this week that it has been awarded a $3.6 million grant for the entire PeaceHealth system from the federal Department of Health and Human Services to help improve community health through changing clinical practices.
PeaceHealth was one of 39 health care systems nationwide chosen for the Centers for Medicare and Medicaid Services program. Ketchikan Medical Center's chief administrator Ken Tonjes said the Transforming Clinical Practice Initiative grant will help the entire PeaceHealth system continue a program that the Ketchikan facility started several years ago.
"We're the previous recipient of an innovation grant from CMS, and CMS was impressed by the outcomes we were able to provide in our community," he said.
Tonjes said the new grant will continue some of the work accomplished through the previous grant, such as care coordination and helping patients become healthier and therefore reduce their need for health care.
"We're trying to get people not to use our hospital," he said. "When you need us, we'll be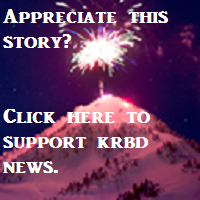 there, but we're trying to keep you healthy and out of using the hospital."
Tonjes said care coordinators are registered nurses, clinicians, social workers and others who are familiar with how to navigate the system, and what patients need to do to help improve their own health.
For example, he said, when patients are discharged from the hospital, it can be stressful, and even though they are given written and verbal instructions on what they need to do at home, they sometimes don't follow through and end up back in the hospital.
"So, a care coordinator will call a patient within 48 hours after discharge, talk them through when they're in more of a calmer environment at home, talk them through exactly what they just went through and what the appropriate steps are for them to remain healthy," he said.
The new grant will expand on those kinds of services, Tonjes said. It will help PeaceHealth facilities in Alaska, Washington and Oregon to coordinate treatment between primary care doctors and specialists, and enhance information patients receive so they can take better care of themselves.
The first year of the grant also is the largest allocation. Tonjes said the overall grant request was for $8.5 million.
"It's front-loaded in the first year because of the investment in some of the staffing and infrastructure needs and it pares down in future years, as PeaceHealth is committed to absorb some of those costs over time in the existing structure," he said.
Tonjes said future allocations from the four-year grant are dependent upon measurable results.