Ketchikan Chamber of Commerce Executive Director Chelsea Goucher recently traveled to Washington, D.C., to testify in support of transferring federally managed lands to state control.
Goucher, who also is an officer  on the Southeast Conference board, was among several panelists who testified in front of members of the House Subcommittee on Federal Lands. It was part of a hearing to discuss options for improving forest management practices.
In her testimony, Goucher says the Southeast Alaska business community in general supports any effort to transfer ownership of federal land to state control. She says the reduction in timber sales offered by the U.S. Forest Service has crippled the local economy.
"While this mismanagement has not been intentional on the part of the U.S. Forest Service, it is the result of federal management policies and processes that are both inherently inefficient and premised upon avoiding the litigation that has become a common feature of timber sales in the Tongass," she said. "Federal lands are at the mercy of overlapping regulations and burdensome planning processes that attempt to satisfy multiple interests, but more often than not leave all dissatisfied."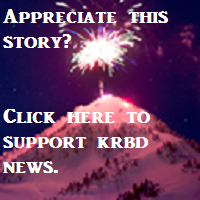 Goucher says transferring 2 million acres of the 17-million acre Tongass National Forest to the State of Alaska would result in about 2,500 new jobs.
In addition to timber, she says state management of that land would lead to more access for mining and other opportunities. For example, Goucher says, the federal permit process for recreation-based businesses also is burdensome.
"In Alaska, we need our lands to work for us," she said. "And we have a proven record of developing our resources without compromising the environment that we cherish."
Alaska's Rep. Don Young sits on the House Subcommittee on Federal Lands, and says the federal government hasn't managed the land well. He says it takes about five years for the
U.S. Forest Service to offer a timber sale, versus about two years for the State of Alaska.
Young notes that there seems to be money for fire suppression, but not timber management. He denied that climate change contributed to the large number of forest fires this season.
"We wouldn't have had these fires in the Lower 48 if we'd been able to manage the timber," he said. "And I hear about climate change – I hear that climate change BS all the time. Go back to 1933. It was hotter then than it is now: 110 in California for 90 straight days. Forest fires are happening because we stopped managing about 40 years ago."
Before Tuesday's hearing, Rep. Young introduced the State National Forest Management Act of 2015, which would allow states to acquire up to 2 million acres of national forest lands through purchase or land transfer agreements.
Below is a link to a video of the entire hearing.