The Ketchikan Canvass Board met Wednesday to count the absentee and questioned ballots cast for Tuesday's municipal election.
The 211 absentee, 147 questioned and six special-needs ballots didn't change the overall results of the election, although they did finalize a close race for Ketchikan Gateway Borough Assembly.
At the end of Tuesday's vote count, Felix Wong led the pack of nine candidates running for the two open seats. He was followed by Stephen Bradford, but in an extremely close third-place was Susan Pickrell.
Wednesday's final count confirmed Bradford for the second Assembly seat. The count ended with Wong at 833 votes, Bradford at 787 and Pickrell at 760.
Bradford watched the Canvass Board as members completed their count. After the results were announced, he said he's excited to work on the Assembly, especially with Wong.
"I think he's going to be a breath of fresh air and will bring a new perspective to that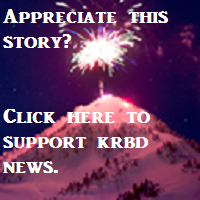 Assembly, and I think that's going to be beneficial," he said. "I knew Susan Pickrell would be extremely tough. She's done a lot of good work in this community and has a lot of followers that are appreciative of the work that she's put in. I'm not at all surprised that she ran strong."
Bradford, who has just completed a term on the Ketchikan School Board, said his first priority on the Assembly will be to listen and learn.
"My role initially is to observe and absorb, rather than try and jump in and think I'm going to have any particular sway," he said.
Front runners in other local races maintained their leads following Wednesday's Canvass Board count. In the race for three Ketchikan School Board seats, Alma Parker took the top spot with 1,348 votes, followed by Misty Archibald (1,277) and Matt Eisenhower (1,001).
For two three-year seats on the Ketchikan City Council, voters re-elected Bob Sivertsen with 726 votes, and chose Janalee Gage for the second seat. She received 552 votes.
Julie Isom was uncontested for a one-year City Council seat.
And for city mayor, incumbent Lew Williams III won with 846 votes over challenger Ed Plute, 314.
Voter turnout for the entire borough was 22 percent. That's about 2,200 voters out of the approximately 10,000 registered within the Ketchikan Gateway Borough.
Below is a rundown of the final vote count for all the candidates running in Tuesday's election. The Assembly and City Council are scheduled to certify election results on Monday.
Ketchikan Gateway Borough Assembly (two seats):
Felix Wong (833)
Stephen Bradford (787)
Sue Pickrell (760)
Trevor Shaw (597)
Kim Hodne (301)
Sheen Davis (295)
James Schenk (240)
Gabe Duckworth (199)
James Mitchell (55)
Ketchikan School Board (three seats):
Alma Parker (1,348)
Misty Archibald (1,277)
Matt Eisenhower (1,001)
Matt Tibbles (823)
Conan Steele (549)
Ketchikan City Council (Two seats; three-year term):
Bob Sivertsen (726)
Janalee Gage (552)
Sam Bergeron (482)
Spencer Strassburg (332)
Ketchikan City Council (One seat; one-year term):
Julie Isom (681)
Ketchikan City Mayor:
Lew William III (846)
Ed Plute (314)