Ketchikan lost a leading citizen on Sunday. George Lybrand remained active in the community until just a few weeks before his death, even putting his name in for local elected office.
"I just think our community is richer for having known George, and is going to be poorer because he's not around anymore," said Ketchikan City Clerk Katy Suiter.
She worked with Lybrand when he was a City Council member, and said he always visited her whenever he stopped by City Hall, even after he left the Council.
While Lybrand was well known for stirring the pot, Suiter said he was always great to the clerks. And, she said, he always had the best interest of the community at heart.
"That's probably one of the greatest memories I have of George is the fact that he was so generous," Suiter said. "Both monetarily, and I think he spent a lot of time, earlier on when he was physically able to, that a lot of people don't have any idea."
Enough people were aware of his good deeds, though, that Lybrand was named Citizen of the Year in 2009 by the Ketchikan Chamber of Commerce, not particularly for his business activities or his time as an elected official, but more for his willingness to give time, energy and money to various organizations and projects.
Lybrand was a World War II veteran, and civil engineer. He grew up in Massachusetts, and moved to Ketchikan about 35 years ago. But, he never lost his strong East Coast accent.
In 1982, Lybrand founded Southeast Engineering in Ketchikan, and in addition to other engineering projects, became was the go-to guy whenever anyone needed rock blown up. He created the rock pit that eventually became Copper Ridge Lane, where the new public library and KRBD now are located, along with other businesses.
Not too long after moving to Ketchikan and opening his firm, Lybrand got involved in local politics. He won a seat on the Ketchikan City Council in the late '80s. Mayor Lew Williams III was at that time also a City Council member, and recalls serving with Lybrand and Lybrand's friend, Tom Coyne – another longtime resident who died just a few years ago.
"They didn't think like the rest of us," Williams said. "I don't mean that in a – they just thought outside the box. They represented the seniors profusely. They had some different ideas that were good ideas, and we acted upon them. They were a little more colorful than I am. I'm pretty boring compared to those two."
Williams said Lybrand will be remembered for his active involvement in the community.
"He's been on the run for many years and never slowed down," Williams said. "That was his MO. He wanted to be active, be involved and help people. And he did it until the day he died, which is great. It's great for people to emulate. Just think if we had a town of those."
After his stint on the City Council, Lybrand moved over to the Ketchikan Gateway Borough Assembly, where he was elected to two terms. Several borough officials memorialized Lybrand during a recent Assembly meeting, which took place just a day after he died.
Borough Mayor David Landis said, "Anyone who's met him will never forget him. He was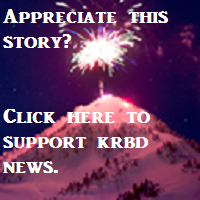 larger than life, truly, in many ways."
Landis served as an Assembly member with Lybrand, and said he had talked to Lybrand recently.
"(I) saw him a couple weeks before when he was running for the City Council, at 92 years of age. Spoke with him a little bit. Sharp as a tack. What a neat guy. I'll miss him a lot," Landis said.
Lybrand filed in August for a one-year seat on the City Council. He withdrew his candidacy in mid-September after his health declined, although before that, he did participate in a Chamber of Commerce candidate forum. Introducing himself, he mentioned his previous terms as an elected official.
"I never missed a meeting, which I'm kind of proud of, and I never took a day's pay, because I think it's a civic duty," Lybrand told the audience, then joked: "What the people used to say is, you get what you pay for."
Many people in Ketchikan will remember Lybrand with affection and admiration, and, as Assembly Member Mike Painter notes, as someone who didn't back down from an argument.
"For the most part, he was kind of an ornery old cuss a lot, but I think he served this community well," Painter said.
Lybrand's family is not planning a service. Memorial donations can be made in his name to the Ketchikan Humane Society, Ketchikan Volunteer Rescue Squad or other local charities.