Voters in Craig were asked last week to weigh in on whether the Prince of Wales Island community should allow commercial marijuana within city limits.
City of Craig voters were asked four questions: Should the city allow retail sales of marijuana and marijuana products? Should the city allow commercial cultivation of marijuana? Should the city allow commercial processing or manufacturing? And should the city allow licensed marijuana testing?
It was an advisory vote, which means the Craig City Council isn't bound by the results,
but the results are interesting. They show that the approximately 200 voters who cast ballots in that election are pretty well split. The only question that received a majority of yes votes was the one allowing retail sales, but even that was close.
Here's Craig City Manager Jon Bolling: "There was a six-vote margin yes over no on the retail-sale question, then a little bit bigger margins for the second and third questions, and then a tie as to whether the city should allow licensed marijuana product testing in Craig. It's mixed bag, for sure."
These are the numbers: For retail sales, it was 102 yes, 96 no; for cultivation, it was 90 yes, 109 no; for manufacture 94 yes, 104 no; and for testing, it was tied 99 to 99.
Bolling said the reason the issue was placed on the ballot was to get a better idea of what residents want. But the results don't provide that clear direction.
"The Council hasn't really discussed these results yet," he said. "I don't know where they're going to go with it. It's clear, there's no mandate one way or the other."
The advisory vote did, though, allow Craig officials to hear from a greater segment of the community than previously. Bolling said there had been public comment at a couple of Council meetings, but mostly from one side.
"There was a meeting last spring, where there was a contingent in the audience that was strongly in favor of commercial marijuana activity. And at least one subsequent meeting, some of the same folks were there to follow up on their comments," he said.
Bolling said that the Council will talk more about the issue. If the City of Craig does choose to allow commercial marijuana activities within city limits, he said the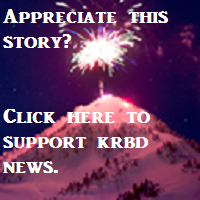 community's zoning rules will help guide officials.
Craig is on Prince of Wales Island, which is not part of an organized borough.
Ketchikan Gateway Borough Planning Director Chris French has been following the marijuana regulation process closely. He said that, according to the current draft regulations, cities within unorganized parts of the state that choose to ban commercial marijuana businesses also will effectively ban those activities within a 10-mile radius of the city boundaries, so someone can't set up a pot shop at the edge of city limits.
French adds that the current draft permit process for proposed marijuana businesses in areas without any local government still requires a petition signed by residents within a certain radius of the proposed business.
This story has been edited to reflect the correct radius affected by a city banning commercial marijuana activity. The most recent draft regulations reduced that radius from 50 miles to 10 miles.