Tuesday was moving day for a few totem poles and other carved wooden figures. The poles were moved from the Saxman carving shed to the old fire station on Main Street in Ketchikan, which will be a temporary carving shed for the next eight months as the Saxman shed is expanded.
Maxwell Mercer helped write the grant for the expansion and says written into the budget was the cost to relocate the poles.
" Like several thousand dollars, and it takes a lot of heavy equipment and you have to be cautious of course."
A forklift, a few big trucks and a handful of men wearing hardhats and reflective jackets made the move under the direction of master carver Nathan Jackson.
" Not going to conflict with each artist. That's the reason why I have them set so that Donnie will work on his project and I'll work on mine over here. I'm not in his way, he's not in my way."
Joining Jackson at the temporary location will be his son, Stephen Jackson, and Donald or Donnie Varnell.  During the move, the poles got considerably wet, but that's not a problem.
"The rain does not hurt any of these, because when you work on it – in fact we spray it down and they're pretty wet right now. It makes it easier for carving on the tools."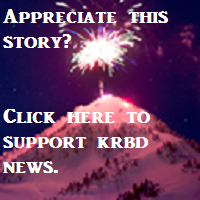 The carvers still need to move their tools before they get back to work, but the carvers, tools and projects they are working on will remain on Main street until next April.