A petition asking for emergency Endangered Species Act listing for Prince of Wales Island wolves was essentially denied by the U.S. Department of the Interior office in Anchorage.
Six conservation groups asked in mid-September for the emergency listing, citing a state study that shows a steep drop in the number of Alexander Archipelago wolves on Prince of Wales and nearby islands.
Conservation groups initially had asked state and federal agencies to suspend the winter wolf hunting and trapping season in the area, but that request was denied. The emergency ESA listing was the next step for the groups.
In a letter effectively denying the emergency ESA request, Assistant Regional Director Mary Colligan writes that an emergency listing is not something that can be petitioned by outside groups, and is a process "left to the discretion of the Secretary of the Interior."
Petitions for emergency listing are therefore treated the same as petitions for a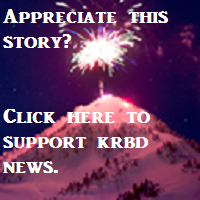 general ESA listing, and there already is a petition for POW wolves that is going through that process. A finding on that petition is expected by Dec. 31st.
The federal subsistence wolf hunting season started on Sept. 1st, and the subsistence trapping season starts Nov. 15th. The state hunting and trapping season opens Dec. 1st. The quota for this year, state and federal, is nine wolves, and conservation groups say that's too many to take from a small population.
The six conservation groups that requested the emergency listing are Alaska Wildlife Alliance, Cascadia Wildlands, Center for Biological Diversity, Greater Southeast Alaska Conservation Community, Greenpeace and The Boat Company.