Sen. Lisa Murkowski has sponsored a bill that would allow developers of the proposed Mahoney Lake Hydroelectric Project near Ketchikan more time to start the project.
The Mahoney Lake hydroelectric project first was identified for development in the 1990s, and would provide up to 9.6 megawatts of power.
The lake-tap project is a joint venture between Alaska Power and Telephone, the City of Saxman and Cape Fox Corp., and has had a Federal Energy Regulatory Commission license for a long time, but the partners haven't been able to move forward yet.
Project spokesman Jason Custer said the 10-year license extension should give them enough time to start the project.
"It's unfortunate that it has been delayed as long as it has been, but the developers have been ready willing and able to invest in it as soon as the incumbent utilities in the area provide their approval," he said.
That "blessing," so to speak, is needed because the Mahoney project can't move forward without a power-sales agreement that would ensure the ability to pay back investors.
Southeast Alaska Power Agency is one of the potential customers for Mahoney power, and SEAPA is exploring future-development opportunities in southern Southeast. SEAPA CEO Trey Acteson said the Mahoney project has been proposed for SEAPA consideration.
It's already got a license, a road and a plan, which makes Mahoney much further along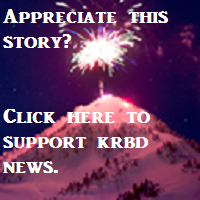 than any other potential hydropower source. But, Acteson said, now isn't the time.
"Currently, the issue with Mahoney is, the economics aren't quite right," he said. "The demand isn't there."
Acteson said if Mahoney was built right now, it wouldn't have any customers, and would just be adding to the "spill," which is, literally, water over the dam. It's also wasted potential energy.
"SEAPA in the last year has spilled over 55-thousand megawatt hours, and the entire Mahoney project, I think they estimated it at 46-thousand megawatt hours" Acteson said. "So, instead of spilling 55-thousand megawatt hours, we would have spilled almost 100 (thousand)."
Acteson said Mahoney would be more economically feasible if a large industrial customer, for example, moved in and needed power. It also will become more feasible as power demand increases in the region, which has been happening over the past decade.
Custer said Mahoney was put on hold many times while local utilities built other projects to increase available power, such as SEAPA's intertie between Swan Lake and Tyee Lake, KPU's Whitman Lake dam project, and, now, SEAPA's plan to raise the Swan Lake dam in order to increase its storage capacity.
He said each of those projects was in response to ever-increasing demand, and he expects demand will continue to grow, making Mahoney economically feasible within the 10-year license extension.
"The community seems to be working together to promote growth of our economy," Custer said. "And having good hydropower options available that can provide power affordably is an essential part of ensuring that economic growth does happen."
Custer said that because Mahoney already is partially developed, it can be up and running much sooner than any other potential project, which is a good marketing tool for attracting industry to the area.
He said once the partners have secured a sales agreement and the needed financing, construction could begin within a year. And, if everything goes right, power could be flowing from Mahoney Lake after two construction seasons.
Murkowski's bill, Senate Bill 2046, was introduced in September. It currently is under consideration by the Senate Energy and Natural Resources Committee, which Murkowski chairs.