Earlier this month more than 40 animals, mostly small dogs, were removed from a home and taken to Ketchikan's Pat Wise Animal Shelter. The question now is what to do with all the animals and how to care for them while they are waiting to be placed in homes.
On October 9th, Alaska State Troopers were called to a North Tongass home where they found an elderly woman in need of medical assistance. The North Tongass Volunteer Fire Department responded to the medical call and transported the woman to PeaceHealth Ketchikan Medical Center. She was later medevacked to Seattle. In the home Troopers found more than 40 animals. They contacted Ketchikan Gateway Borough Animal Protection for help.
Animal Protection Director Eddie Blackwood was one of the people who responded.
"They were living in substandard conditions. They had some issues with medical conditions such as skin problems, eye problems, ear infections, things like that."
Blackwood says the floor of the small, dilapidated home was covered with about six inches of feces. Removed from the home were 31 small dogs, 6 cats and three chickens. Blackwood says one dog, one cat and one duck were found dead in the home. At the shelter, Animal Protection moved healthy animals upstairs to make space for the dogs in the kennels downstairs.
Blackwood says because the homeowner was incapacitated and unable to verbally surrender the animals to the shelter, they are not the property of the Borough and therefore cannot be fostered or adopted at this time.
"The Alaska State Troopers are the lead investigators on this. So we are in the process of making contact with family members to either make arrangements for these animals or have them signed over to the shelter."
As of Saturday afternoon, surrender or transfer of ownership of the animals had not occurred.
Entering the kennel area, you are greeted by a chorus of non-stop barking, each dog jumping up on the kennel gate seeking attention. With the shelter at near capacity, staff is extremely busy, and volunteers have been stepping up to help. One volunteer is Susan Thompson.
Thompson is a member of the Ketchikan Humane Society board. She says she usually focuses her time with that organization, but when she heard about the overwhelming number of animals, she decided to help out. She was laundering bedding when I spoke with her.
"I feel terrible for the whole situation. I feel terrible for the woman and her family and particularly for these little animals who don't know where they are or why they are and they're scared and confused and need some help. And the shelter officers need help."
Thompson says she appreciates that people volunteer when they can, but suggests contacting the shelter to find out what type of help is needed and when.
"I told the officer I'd come down tomorrow early in the morning, about 8:00, and help them clean. They need some consistent help, people to put together a schedule to help them out. Fifty people showing up at once is going to be more than they can handle, but if they know they can rely on somebody to come in the morning and that they're going to be there and they're going to help ease the burden, it would be excellent."
Several months ago the shelter had a large influx of cats. I asked Blackwood if situations where large numbers of animals are taken from a home are common in Ketchikan.
"To my knowledge there have been three or four cases over the last five years, which is not huge compared to some communities. Some communities are doing it every week, the larger cities and things. So it's not a huge problem, but it can be problematic."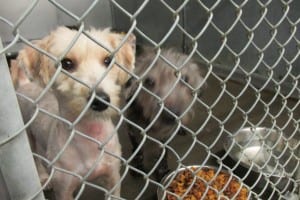 Blackwood believes the shelter will get custody of the animals soon and, once they are declared healthy by the veterinarian, can be placed for adoption or fostering. In the meantime, Blackwood says donations are appreciated.
"…both financial and dry goods – towels, bleach, paper towels, laundry detergent, things like that. Dry dog food. Dry cat food. Canned food. Just the basic things that keep us going at the shelter."
He says people can also volunteer their time. You can contact the shelter for more information about its volunteer program.
NOTE: The shelter is holding volunteer training Sunday, October 25th at 3:00 pm at the shelter.  Also, Maria Dudzak volunteers at the shelter.