Members of a group that proposed creating a new home-rule city from what's now the North Tongass Service Area decided Tuesday to stop moving forward with that idea.
One group member is Glen Thompson, who also is a Ketchikan Gateway Borough Assembly member. He said there wasn't enough positive response to the idea, which was made public in late July.
"When we put it out, we were hoping to generate some excitement in the community out here on the North End. We just really didn't see a lot of people jumping up and down and saying it was such a great idea," he said in a telephone interview Tuesday. "Some of the feedback we did get was neutral or negative. Once you go out, try to put a petition on the street, get signatures, get it filed. It's just so time-consuming that without seeing a lot more enthusiasm from folks, we just decided it really didn't make much sense to keep moving forward."
The group had not yet started collecting signatures for the petition, a needed step in the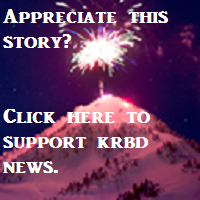 process of establishing a new city.
In a recent meeting with the North Tongass Service Area Board, Thompson had said they were making minor changes to the proposal and waiting until the Oct. 6th local election was complete before formally starting the petition process.
Thompson said Tuesday that the document, which has been informally reviewed by the state Local Boundary Commission, would be available if anyone in the future wants to revisit the idea of creating a City of Ward Cove.
"If the time was right and someone said maybe we should look at this, we can say, 'we looked at this a couple years ago,'" he said. "It's been vetted through the state, so there's some benefit to having gone through that process and saying, 'OK if we wanted to do this would this pass muster,' and it would. But again, looking at it realistically, it's going to take just an enormous amount of time and effort, and it's just not the right time."
The proposed City of Ward Cove boundaries would have included about 3,250 residents. It would have encompassed 42 square miles of land, three square miles of water and tidelands; and property with an assessed value of $350 million.
You can read an earlier report on this topic here.