This spring, students throughout the state took the Alaska Measures of Progress, a new standardized state test that raised the bar for academic achievement. The Ketchikan School Board talked Wednesday about preliminary local results of that test, and how the district might respond.
Results from the AMP test have been delayed, and delayed again, and delayed some more. But last week, districts got a look at preliminary results, and they indicate the state has some work to do.
Locally, students were pretty much in line with state averages. Some grades did better, others did worse. But, locally and statewide, many students scored below the "meets the standards" level.
Ketchikan School District Curriculum Director Shannon Sines said that was expected, but "these are certainly not scores we're used to in Ketchikan. And regardless of anyone telling us these are more rigorous standards, that expectations have gone up, that's hard to swallow."
Sines said the most important task for the district is to support teachers as they adapt to the new standards.
"I know we have a huge task ahead of us and they need our support because, when scores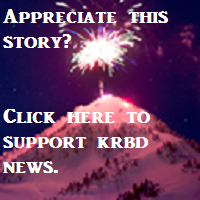 like this are first released, it's hard not to take those things personally," she said.
Sines says the new state standards are modeled after Common Core, a set of standards that define what students should learn before graduating. Many states have adopted those standards, but while the AMP is based on them, Alaska has not officially adopted Common Core.
School Board Member Matt Eisenhower wondered whether the new standards in AMP are right for Alaska.
"In the research I've done and even input from teachers, we talk about higher standards, but another way of saying that is, it's more geared toward higher education and college prep, versus whatever else – more fundamental learning," he said. "And the question is, in a rural state like Alaska, does that make sense?"
Superintendent Robert Boyle notes that the AMP test won't keep anyone from completing high school, unlike the previous Alaska High School Graduation Qualifying Exam.
"So, as long as we don't have a regression to attach this artificially cranked-up cut score onto a qualifying exam that allows you to get or not get your diploma, then it becomes rhetoric only," he said. "But, if they start attaching it to a cut score, then it becomes a real problem for children in schools."
Eisenhower wondered, though, how much the new standards would affect curriculum choices in the district.
Sines said there will be changes. For example, she said, math teachers now are expected to teach many different areas; the new standards will let teachers focus more in-depth on fewer topics, which should help students master those topics before moving forward.
"So, although the standards are expecting more of students, and for them to learn much more deeply, some items are falling off the teachers' plates in terms of the amount of topics," she said.
The AMP scores are still going through an adjustment process with the vendor, and state officials haven't been able to pinpoint a date for releasing the official results.
There was a Nov. 9 release date announced earlier, but the state and vendor have since scrapped that date and have not announced a new one.