Ketchikan's animal shelter has gotten some relief in recent weeks after rescuing more than 40 animals from one home in early October.
Local animal rescue groups took some of the pets from the maxed-out Ketchikan Gateway Borough-run shelter, other animals were adopted within the community, and it was announced this week that the shelter in Sitka has raised money to fly the remaining dogs to that community.
Eddie Blackwood runs the Ketchikan borough's animal protection department. He said that of the approximately 40 animals that were rescued on Oct. 9, the Ketchikan Humane Society took four dogs, BARK Alaska rescue took two dogs, a chicken and a rooster, Southeast Organization for Animals is taking two dogs, and Sitka is taking all the remaining canines.
Blackwood said Sitka shelter director Ken Buxton told him there was immense interest in the case within that community.
"And he called and said I have people knocking on my door wanting these
animals, and they're even raising money for the flight," Blackwood said. "As of two weeks ago, he'd raised $600 for the airfare, so he thought he could probably raise enough to cover the whole entire airfare."
And he did. Buxton said he used his "Critter Corner" column in the Sitka Sentinel to write about the Ketchikan project, and started collecting donations.
"We've raised close to $1,400, so we're going to charter a flight with Scott Harris over here and we're going to pick up 11 of those dogs, and one of them is already spoken for," he said.
Buxton said the others will either go into foster homes or the Sitka shelter, but he's got a list of people interested in adopting as soon as the dogs are ready. He praised the Ketchikan shelter and rescue groups for their hard work, and not only for the pets rescued from the North End home.
"I think, sometimes, the media might throw the word hero around too much, but those guys are heroes," he said. "The stuff they're doing and, just going over the top caring for these animals, and these dogs in particular."
The dogs rescued from the home all were small dogs, likely terrier mixes. Most crowd up to the front of their large cages, wagging furiously, eager to sniff an outstretched hand and offer a friendly lick.
Blackwood said some of the dogs have been adopted locally, and just need to be spayed or neutered before they head to their new homes.
"So, we've got Prince, Chewey, Stella, Bella and Skittles that are going for surgery on Thursday," he said, looking at a list. "They've all been adopted."
Five of the six cats removed from the house are under treatment for coccidia, a parasitic infection; and/or upper respiratory infections. They all were malnourished and most are wary of people.
The cats are in the upstairs part of the shelter, providing a quiet atmosphere away from barking dogs.
"This cat is one of the ones from the house out north," Blackwood said, pointing to a Siamese crouched in a corner of his cage. "He's intractable. A little bit hard to handle and he bit one of the staff members, so we're going to quarantine him for, I think he's got three of four days left on his quarantine. We're going to try and work with him, bring him around, and hopefully at some point he'll be adoptable."
The cats were badly matted when found, so they were shaved, too. Once they are healthy and ready to be adopted, they'll join all the other cats in the main viewing room – about 15 in all.
When the Ketchikan shelter first took in all the animals from the North End home, resources at the shelter were stretched thin.
Blackwood said the community really stepped up, with lots of donations of food and supplies, as well as volunteers coming in to help care for and comfort the animals.
"I think they were shocked at the situation," he said. "It's a very sad situation. It's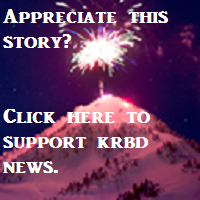 very sad that the lady passed away. But I'm just glad we were able to help the animals that she had."
The elderly woman lived in a North Tongass home. Alaska State Troopers had been called there, and found her in need of medical help. She later died. While at the home, Troopers noted the large number of animals and contacted the borough's animal protection department.
The floor of the home was covered in feces, and three animals were found dead. Animal Protection removed 31 dogs, six cats and three chickens, but one of the chickens later was euthanized because of an injury.
While the cats are still recovering their health, Blackwood said that since their rescue, the dogs have improved significantly, in health and confidence. He said they won't need much rehabilitation to become great companions.
"None of them are aggressive," he said. "In the beginning, they were a little timid and scared, but now they seek out attention and they're doing really well."
Buxton said he's eager to get the remaining dogs to Sitka, "and get them into homes, where they can do what they're supposed to be doing: Being dogs."
Buxton said he's due to arrive in Ketchikan late Thursday morning to pick up the dogs.