Ketchikan Volunteer Rescue Squad searched Thursday for a 22-year-old Ketchikan man reported lost on Deer Mountain Wednesday evening.
According to Jerry Kiffer of KVRS, the man hiked up to the top of the mountain with a friend Wednesday afternoon. They made it to the summit, and then started back down. Kiffer said that at about the second overlook, the man wasn't able to continue. So, his friend left to get help.
"His partner had advised him to stay at the location on the trail, and he was given an extra coat and extra sweater," Kiffer said. "Then the reporting source (the lost man's friend) came down. It was their understanding that he was going to stay in place."
However, Kiffer said, the man didn't stay at the second overlook. Rescue crews went up the mountain at about 7:30 p.m., and didn't find him there, anywhere along the trail, or at the cabin just beyond the summit.
But, they did find some tracks in the snow showing that someone had recently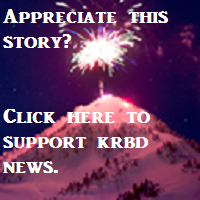 walked off the trail, headed west toward Ketchikan Lakes.
"We were able to track him in the snow, but when we got down below 1,800 feet, we lost the snow and lost the trail at night," Kiffer said.
The conditions were extremely poor, with high winds and heavy rain combined with a steep terrain. Despite that, Kiffer said rescue crews stayed on the mountain most of the night. They started pulling back at around 3 a.m. Thursday, with the last crews off the mountain by about 5 a.m.
They were back, though, just a few hours later.
"We've gotten back to the area that we last saw the sign," Kiffer said. "We've got a fresh dog team in and a mountain rescue team in supporting their operation, and we have aerial searching via helicopter."
In a follow-up interview at about 3:30 Thursday afternoon, Kiffer reported that crews had found no sign of the man, and he was calling them back for the night. The search will resume Friday morning.
Kiffer says it isn't yet confirmed why the man wasn't able to continue down the mountain Wednesday afternoon.