Three young Metlakatla residents have started a new non-profit organization with the goal of strengthening their Tsimshian culture. The first task – and it's a big one – is helping to create a larger pool of fluent speakers of the Tsimshian language, starting with themselves.
There's an old black-and-white photo, taken on Annette Island in the late 1800s. It shows more than two-dozen Tsimshian men lined up in two rows, ready to pull a stump out of the ground using only ropes and muscle.
Those were Metlakatla's founders, recently arrived from British Columbia, and that was one of many stumps they pulled by hand to clear the land for their new community.
"That's an inspiring image for us, because it didn't matter if they were rich or poor, it didn't matter what their clan was. The only thing that mattered was setting aside their differences to pull together to create something that no one person can create on their own," said Gavin Hudson, one of three co-founders of the Haayk Foundation.
He said if his ancestors were able to pull thousands of stumps out of the ground without the aid of modern machinery, he believes their new non-profit  can succeed in its goal of reviving the dying Tsimshian language, a first step toward revitalizing the culture.
"Sm'algyax is the language of the Tsimshian people. It's going away. It's
fading away before our very eyes," Hudson said. "It seems that with language loss comes identity loss. We fill that void with drugs and alcohol and abuse of all sorts – self-hatred, self-loathing. So, our silver-bullet idea is to save our language in order to strengthen the spirit of our people."
That's where they got the name for their nonprofit: Haayk means spirit. The three co-founders were given their own meaningful names.
Hudson's means "Eagle Always Watching over Others." David R. Boxley's Tsimshian name means "Wolf of the Sky," and Kandi McGilton's means "Soars High."
The three are definitely aiming high, but in less than a year, the Haayk Foundation has made some progress. They organized an online fundraising effort, selling T-shirts to raise money for materials and classes, and they held a "coming out" culture and history event during the community's annual Founders Day, which commemorates the founding of Metlakatla.
And, in early December, they're bringing in a teacher to conduct a series of free language workshops. That teacher happens to be Boxley's father, David A. Boxley – a master carver who, in the early 1980s, kicked off another cultural revival in Metlakatla. The elder Boxley hosted the first potlatch in that community to honor his grandparents, and raised his first big totem pole.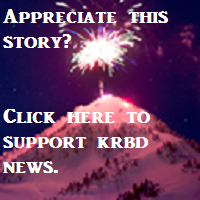 David R. Boxley said that cultural revival focused on the arts – carving, singing, dancing, weaving and regalia.
"As far as I'm concerned, and I think we all feel that way, this is the next step," he said of the Foundation's efforts. "We have to take what our parents' generation has done and not try to replicate anything but build off of that upward movement."
The decline of Native languages started with government-run schools in the earlier half of the 1900s, where Native students were punished for speaking their language, and were told to use English only. Now, though, Boxley said, "It's no one else's fault anymore, if it goes. Nobody's stopping us anymore. Nobody is saying it's wrong. Nobody is saying – the things that caused us to be in this mess don't exist anymore."
Except for a lingering sense of shame and trauma passed down through the generations. But, Boxley said, learning the language – reclaiming that heritage – is a way to heal.
"The pride one feels in knowing who they are is invaluable," he said. "It prevents you from doing things that harm your body or your family when you're proud of who you are, when you know where you come from, when you have a connection to something beyond keeping up with the Kardashians."
While they are promoting their culture's time-honored traditions, the 30-ish-year-olds are taking a modern approach to spreading the message. They have a website, of course, www.haaykfoundation.org.
"And they can search for us on Facebook, too, for the most up-to-the-minute updates," Hudson said. "We also are on Twitter, Instagram. We're really trying to meet the people where they're at."
The three Haayk Foundation co-founders want to work with other Native organizations and community members, which Hudson said is the only way to achieve their challenging goal. In fact, their Founders Day event was called "Pulling Together."
During that event, they gave everyone who attended a print of a painting by Chris Hopkins, based on that old photograph of Metlakatla's founding fathers pulling a stump out of the ground. The painting also is called "Pulling Together."
Hudson said Lt. Gov. Byron Mallott, a Tlingit Alaska Native, attended the Founders Day event, and also received a print. Mallott had it framed and gave it to Gov. Bill Walker.
Hudson said, "Gov. Walker, I've read over and over again in Alaska news that he's choosing to find inspiration in the same place that we found inspiration, and that is in the pioneers who settled Annette Island."
Because pulling together is the only way to solve a really big problem, whether it's clearing a thousand stumps, filling a $3 billion state budget gap, or saving a dying language.
The Tsimshian language classes with David A. Boxley start Dec. 7th. The workshops are free, but people are asked to register in advance, so that there's enough material for everyone.
Below is a copy of the flyer for the class, with information about how to sign up.