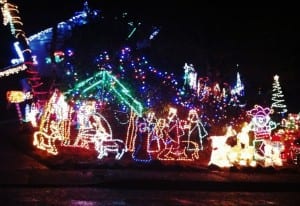 The Ketchikan chapter of AARP has announced the winners of its annual Christmas lights awards.
Cash prizes are awarded to homeowners who have put up exceptional holiday light displays inside and outside of Ketchikan city limits.
According to AARP, the first-place award for inside the city was a tie. The winners are Brian and Sandi Gilson on Alaska Avenue; and John and Linda Gilson, just up the street on Fairview. Each family won $100.
Second-place went to Dave Myl on Harris Street. He wins $50.
For outside of city limits, the $100 first-place prize went to the Hook residence on North Point Higgins Road. Second place, and $75, was awarded to Russell and Jennifer Cockrum, located on North Tongass Highway just south of Ward Cove. The third-place prize of $50 went to Dena Minicucci's home on South Tongass near Rotary Beach.
The AARP judges also recommended specific areas with nice light displays. On the North End, they recommend Mattle Road and Phillips Lane, Clover Pass Church and Totem Bight.
Inside city limits, the judges recommend the Tower Road area.
Prize money was donated by the International Brotherhood of Electrical Workers.