Pot was the main topic dominating Ketchikan news throughout 2015. Alaska's First City also debated a tobacco excise tax, welcomed the winners of the first Race to Alaska boat race, and mourned nine people who died in a floatplane crash.
A majority of voters in the state, and a majority of Ketchikan voters, chose to decriminalize marijuana in fall of 2014. Pot became legal for personal use in February, but local municipalities have the option of banning commercial sales. Whether to do that has been a subject of debate all year in the Ketchikan Gateway Borough and City of Ketchikan.
A local Marijuana Advisory Committee was formed to focus on that topic, and the committee recommended holding off on banning retail pot. But then in early December the Ketchikan City Council voted to not allow commercial marijuana within city limits.
Public outcry over that vote – which wasn't well advertised – prompted the Council to reconsider it, and then delay a final decision until this coming spring.
In the meantime, the Ketchikan Gateway Borough Assembly ended the year by approving a series of local regulations that will govern commercial marijuana throughout the borough.
Here's Assembly Member Bill Rotecki, who supports allowing and regulating retail pot: "We know it's new territory and it's going to be a work in progress, and it's may be a difficult one. I'm hopeful that it will be, in the long run, a better way to do business. I don't like the idea of supporting organized crime. I think aboveground is the way to do it. That's why I'm supportive of legalizing marijuana."
Also in 2015, Ketchikan mourned the loss of nine people when a Promech floatplane crashed in late June during a flightseeing tour of Misty Fiords National Monument. Eight of the people on board were tourists from the Holland America Cruise Lines ship Westerdam. The ninth was the pilot.
Members of the Ketchikan Volunteer Rescue Squad recovered the bodies from the crash site: A steep cliff near Ella Lake.
Here's Alaska State Troopers spokeswoman Megan Peters praising the efforts of local volunteers: "It really does come down to our local, trained volunteers that makes these things ultimately a success. And we will be relying on them to help us with the body recovery efforts. Their experience and their willingness to help us, is just above and beyond."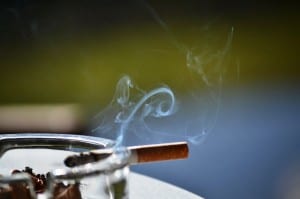 A proposed borough-wide tobacco tax was indefinitely postponed by the Ketchikan Gateway Borough Assembly after much debate throughout the year. The issue was brought forward by members of the Ketchikan City Council as a way to not only generate revenue, but discourage young people from smoking, and encourage smokers to quit.
But, three Borough Assembly members who consistently opposed the tobacco tax — Glen Thompson, Mike Painter and Jim Van Horn — were joined by Todd Phillips, who previously had supported the idea. His vote created a majority opposition.
Here's Phillips, explaining why he changed his mind: "Are we really here as a body to tell people what health choices to make? If we are, make them illegal. Alcohol can harm you, make it illegal. Are we going to start taxing candy? Are we going to start saying anyone who weighs over 200 pounds at a certain height can't have Obamacare?"
The tax would have charged $3 per pack of cigarettes, or 75 percent of the wholesale price of other tobacco products, including e-cigarettes. The Ketchikan City Council could still enact a city-wide tax.
Saxman received some good news this year when it regained its rural status, allowing residents to qualify for federal subsistence food-gathering rights. Alaska's Congressional Delegation also has been pushing for legislation that would require congressional approval before a community's rural designation could be removed in the future.
Here's Saxman resident Lee Wallace, testifying before a House Subcommittee on Indian, Insular and Alaska Native Affairs hearing for the House version of the bill, sponsored by Rep. Don Young: "Saxman supports this legislation because it creates permanent and procedural protections for rural communities. It eliminates the fear and anxiety caused by the unnecessary process in which the FSB essentially evaluates whether we can carry on our traditions and our way of life."
This year also marked the first Race to Alaska. The trimaran racing sailboat Elsie Piddock was the first to finish the 750-mile engineless boat race from Port Townsend, Wash., to Ketchikan.
The three-man crew made it in about five days, and shared the top prize of $10,000 cash. Second-place winners, MOB Mentality, also in a trimaran, won a set of steak knives.
Organizers are planning a second race in 2016, with a start date of June 23.