The Race to Alaska is coming back, and this year will include a team from Alaska.
"This is really hare-brained. This is probably a bad idea," said race boss Daniel Evans.
So bad, they're doing it again.
Organizers of the 750-mile engineless boat race from Port Townsend, Washington, to Ketchikan say they had a huge positive response last summer to what Evans calls their "good bad idea."
"There's this line we use. Which is, will you be ready? And, it's kind of a dare," Evans said.
So far, 32 teams have taken that dare for the second Race to Alaska. That's three times the number registered last year at this time.
The 2015 race started with 36 teams. Only 15 finished.
"It's a harrowing stretch of water," Evans said. "I'm a professional sailor; I've been on the
water for decades, and all around the world. It's some of the most skill-intensive and harrowing water around and we're asking people to do it without any support, without any engine, and in a time limit."
And there were only two official prizes. First place got $10,000. Second place got a set of really nice steak knives.
"But people didn't care about that," Evans said. "It wasn't about that. It was about doing the race. I was really surprised not just by the number of people, but by the variety of people."
That variety included racing sailboats, a canoe, rowboats, a guy in a kayak.
Evans said once the race started last year, organizers were surprised again by how many people were following the teams' progress.
"The website in the month of June had over 11 million hits," he said. "It was averaging like 25,000 an hour."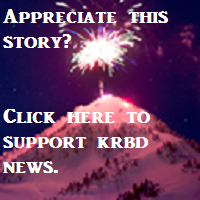 It also crashed a few times because of all that traffic, as did the online tracker, which allowed people to keep tabs on individual teams.
So, add all that positive response together and you get another race. Evans said they're not changing the rules much, and the official prizes are the same. They have added "side bets," though, to allow sponsors to provide additional prizes in specific categories.
Evans said the most recent addition to the upcoming Race to Alaska is Team Ketchikan, sponsored by the Ketchikan Yacht Club.
"Charley Starr, Mike – I always pronounce his last name wrong — Firari  — and Joe …. Joe."
That's actually Charley Starr, Mike Firari and Tom Logan.
"And Mack Dahl, actually, who is also from the (Ketchikan) Yacht Club. He's going to be teaming up with a Port Townsend racer," Evans said. "So, he's going to be on the team Salish Express."
A few teams of professional racers have signed on, too. Another guy is going to attempt the journey on paddleboard. And Evans said they've had international interest, from Australia, France, Russia and Germany.
They're also trying to convince Oracle Team USA owner Larry Ellison to bring the America's Cup champs and their winning boat to join the race.
"We even sent fruitcakes this December to Larry Ellison," Evans said. "We had a little fruitcake campaign. Haven't gotten a response from his or his lawyers yet, but we've got a hotline ready for him."
They don't expect a response, but, Evans said, it would be interesting to see how that high-performance boat handled the rough passage.
Evans added that another big incentive to organizing the race a second year was the support they received in Ketchikan. From housing to office space to dock space, he said Ketchikan individuals and businesses made it easy to come back.
"It was just amazing people kind of rallied, because they also thought it was a good bad idea and wanted to celebrate it," he said. "I felt really grateful it felt like the right synergy, the perfect place for this race to finish."
This year's race starts on June 23 in Port Townsend. Teams have a month to make it to Ketchikan. Last year's winner, Team Elsie Piddock, made the journey in five days.