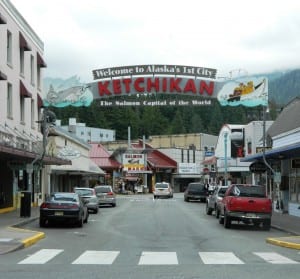 The Ketchikan City Council meets on Thursday, and on the agenda are four ordinances to raise utility rates in Ketchikan.
The city and Ketchikan Public Utilities 2016 budgets were built on the assumption that wastewater, garbage, electric and water rates would go up. The Council approved both of those budgets in December without challenging those assumptions. But, city code requires that the Council also approve separate ordinances for rate increases.
The first rate hike on the agenda is wastewater fees, with a proposed increase of 8 percent. That means the monthly residential charge would go from $46.28 to $49.98. That would increase revenue to the city by about $169,000 this year, and $225,000 annually in subsequent years.
The reason for that difference is that this rate increase, along with all the others, wouldn't take effect this year until April 1st.
Garbage collection fees are next on the agenda, with a proposed 10-percent increase. They would go from $9.72 to $10.69 a month.
A proposed 5-percent electric-rate increase means the base service charge would go up by 30 cents, and the average monthly residential electric bill would go up about $5. According to the city Finance Department, this would increase revenue in the first year by about $550,000; and by about $740,000 in subsequent years. The electric division in 2014 reported a deficit of nearly $1 million.
And finally, water rates are slated to go up 8 percent, which increases the monthly residential water bill from $48.19 to $52.05. That would increase revenue in the first year by $202,000, and by about $270,000 in subsequent years.
Add all that up, and the average city resident would pay about $14 a month more starting April 1st.
All the proposed rate hikes are scheduled for a first reading on Thursday, which means they need a second vote before they are officially adopted.
Thursday's Council meeting starts at 7 p.m. in City Council chambers. Public comment will be heard at the start of the meeting.