An ordinance calling for the temporary ban of cannabis businesses within Ketchikan city limits is up for a second and final vote by the Ketchikan City Council on Thursday.
The Ketchikan City Council introduced the ordinance at its Jan. 7 meeting, but it was a close vote. Three supported it, and three voted no. With one Council member absent, Mayor Lew Williams III broke the tie in favor of the measure, which would put a moratorium on commercial marijuana within the city until the end of September.
The argument in favor of the temporary ban is that the Council needs more time to decide whether it wants to allow commercial pot operations in the city. The State of Alaska will start accepting applications for marijuana businesses at the end of February.
A related item also is on the meeting agenda. Council Member Bob Sivertsen, who voted for the temporary ban, requested Council discussion of a ballot measure for City of Ketchikan voters to decide whether pot shops should be allowed.
A majority of Ketchikan voters supported the 2014 statewide initiative that legalized recreational marijuana in Alaska. However, that initiative included an "opt-out" that gives local governments the power to ban retail sales.
Sivertsen said city voters should make that decision, rather than the Council.
"I'll support whatever the outcome of that particular vote is," he said. "There's some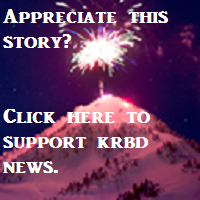 controversy at the Council level and it's tough to sit on that Council and be judge and jury on these types of issues when they really are a community issue."
Sivertsen said there likely would be some kind of public vote, anyway.
"The reality is, if the Council were to vote in a ban, there probably would be a citizen initiative anyway," he said. "Why put the community through those pains when we can just put it up to a ballot and let the community decide what they want to look like?"
While the City of Ketchikan continues to debate commercial marijuana, the Ketchikan Gateway Borough Assembly already has approved a set of regulations for any pot business that wants to open within borough boundaries.
In other matters, the City Council will consider a motion to fund a special shuttle service between the Centennial Building parking lot and the city-run Ted Ferry Civic Center during the annual Wearable Art Show. The cost is estimated at $1,500.
A shuttle is needed because parking at the Ted Ferry is limited and the Cape Fox Lodge funicular is closed this winter. The borough's Transit Department will provide the shuttle for the three evening performances on Feb. 4, 5 and 6.
The City Council meeting starts at 7 p.m. in Council chambers. Public comment will be heard at the start of the meeting.