Last week, City of Ketchikan crews responded to two water leaks in two days. That leads to a question: What is the condition of Ketchikan's water distribution system?
John Kleinegger is the city's longtime Water Division manager. He said the wood-stave piping that used to serve Ketchikan's water needs – yes, wood – is all gone now, as is old steel piping.
There are three different types of water pipes now running under Ketchikan.
"We have cast-iron piping, we have ductile iron piping and we have high-density polyethylene," Kleinegger said.
Two of those have been around for a while, and each has its own unique problems.
"At the time of course, they were far superior to steel pipe and wood-stave pipe, so we started installing cast iron piping probably in the '40s," he said. "But the problem with cast iron is, it's really quite fragile."
Any shift in the ground around a cast iron pipe, and it can snap in two, or split. That's been the cause of many water main breaks in Ketchikan. Ductile iron is more sturdy Kleinegger said, but, "the ductile iron is susceptible to electrolytic corrosion."
That happens when certain metals are exposed to an electric current.
"Throughout the community, people have bonded their electrical service to their water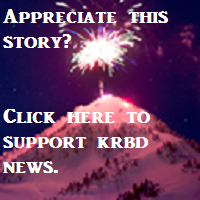 service line, so the return path for ground currents actually travels along our pipeline," he said. "As a consequence, along the very bottom of the pipe, you see massive pitting."
And that pitting eventually leads to failure.
So, in more recent years, the city has been gradually replacing cast iron and ductile iron water pipes with high-density polyethylene, which Kleinegger said isn't susceptible to either of those issues. But, replacing the whole system is going to take time.
"We have probably four and a half, five miles of cast iron," he said. "I don't know how many miles of ductile iron, because we've been installing that for the last 30-40 years."
It's also going to take money, which right now is tight.
"Much of what we've constructed has been through state grants and low-interest drinking water loans through the state," Kleinegger said. "If we had to reconstruct everything just based upon the revenue that we had as income from the ratepayers, the cost of water and everything else would just be horrendous."
State funding for projects is unlikely in the near future, because of a huge state budget deficit brought on by low oil prices.
Two recent leaks that city water crews had to fix were the result of an aging system. The first was downtown, and involved a joint that loosened over time as the ground shifted. The next day, crews were out again, this time on Second Avenue and Austin Street. That leak was a relatively simple fix – a 60-year-old valve needed repair.
But, Kleinegger stressed, even a small leak in Ketchikan's system needs immediate attention.
"We have fairly high pressure. It's more than 100 pounds per square inch," he said. "And if you split a pipe and you've got that high a water pressure, it just washes everything out of the road and destroys the pavement."
He said that sort of problem should become less prevalent after Ketchikan has replaced all its pipes with high-density polyethylene. But that'll take a while.