Following about an hour of public comment from a packed Council chambers, the Ketchikan City Council voted 3-2 Thursday to reject an ordinance that would have temporarily banned retail marijuana in city limits.
The public comment was overwhelmingly in favor of allowing a retail pot industry. Among the speakers was Council Member KJ Harris, who stepped down from his seat to speak at the public-comment lectern.
Harris stressed the financial benefit to the city.
"There is a potential to make some money," he said. "Not on the 10,000-12,000 people that live on this island, but maybe we have a smoke club, smoke something, where those that want to can jump off a tour ship, come in, buy enough to fill a bowl, smoke a bowl of weed, pay us $30."
Other speakers noted that the majority of voters in Ketchikan supported the legalization of marijuana when it was a statewide initiative in 2014. They objected to what they said is a disregard for the voters' will.
The initiative does include a provision for local communities to opt out of commercial marijuana operations.
Only one person out of the 15 who spoke asked the Council to approve the ban. Terrance Robbins of the Ketchikan Wellness Coalition cited statistics from Colorado, where marijuana has been legal for a couple of years, that he said shows legal retail pot leads to increased use among youth.
"Are we doing this just for a few tax dollars? Are we doing this for a few medical marijuana patients? Why are we going to risk the future of these kids?" he asked. "We'll honestly be looking at, if we follow Colorado's trend, youth marijuana rates in Ketchikan above 35 percent."
During Council discussion of the measure, it became clear that the ordinance would not pass. Two Council members were absent – Janalee Gage, who supported the ban in previous votes; and Dave Kiffer, who voted against the measure when it was introduced at the Council's last meeting.
Of those Council members present Thursday, three of the five said they don't want a ban on retail pot. Julie Isom explained why she supports allowing an industry.
"I'm not going to base my decision on the tax dollars that we're going to get. I'm not going to base my opinion on the medical benefit that some people will get, and I'm not going to base my decision on my personal moral standard," she said. "In my opinion, the people did decide."
Isom, KJ Harris and Council Member Judy Zenge voted against the retail pot ban.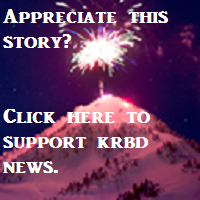 Council Members Bob Sivertsen and Dick Coose voted in favor.
With the ordinance's failure, the City of Ketchikan now faces a new task: Whether and how to regulate marijuana businesses within city limits. City Mayor Lew Williams III asked the City Attorney Mitch Seaver to put together a proposal that would allow the Council to review license applications, along with other options.
Such an ordinance likely would not be in place before the state starts accepting cannabis business license applications at the end of February, but until the city has a process established, the Ketchikan Gateway Borough Assembly does have license review powers for the entire borough.