A big storm blew through Ketchikan Monday and early Tuesday, taking down trees in some areas and cutting the community's power link to the Swan Lake hydroelectric dam.
The resulting power outage lasted about 30 minutes, and led to some other problems that Ketchikan Public Utilities crews had to deal with on Tuesday.
KPU Electric Division Manager Andy Donato says that, at about 3:30 Tuesday morning, a falling tree took out the line connecting Ketchikan to Swan Lake, which is owned by Southeast Alaska Power Agency.
Swan Lake is a major source of Ketchikan's daily power supply. So, many KPU customers lost electricity when the line went down.
"So, we responded by starting up our large diesel generator, which we affectionately call BAG-4," he said.
BAG stands for Bailey Generator, and it's the largest of four generators at Bailey Power Plant. When the generator got going, KPU customers got their power back.
BAG-4, though, had its own problems.
"It turns out that BAG-4 developed an exhaust leak, and we had to shut it down. So, now we have to try to make up that energy with our Bailey generators 1,2 and 3, and the two diesel generators up and Point Higgins, and the rest of our spinning hydro," he said.
KPU operates smaller hydroelectric dams that supplement what the community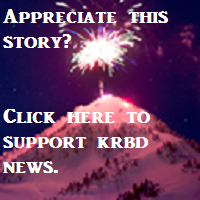 normally receives from Swan Lake. Even combined, though, the smaller generators and local hydro projects aren't quite enough to keep up with Ketchikan's normal daily needs.
"We have some municipal customers that have the luxury of dual-source heating. The rec center is one; they have either fuel oil or electric. The new fire hall is another, and the library also is with pellet heating. So, we called all those folks and had them switch over," he said.
That helped, but KPU also put out a call to all KPU customers to conserve electricity use while crews finished repair on BAG-4. About four hours later, Donato says the large generator was back up and running.
"The situation we were in earlier – conservation mode – we're out of that now. Everybody can use their electricity freely now," he said.
Donato says the earlier call to conserve power use made a difference.
"We could see the load coming off in real time," he said.
With local repairs mostly under control, Donato said some KPU Electric Division crews could start work repairing the link to Swan Lake. He hoped that work would be complete by nightfall, when winds were expected to pick up again.
According to the Ketchikan International Airport flight service, the peak gust recorded on the runway during the storm was 69 mph at 2:10 a.m. Tuesday.
Total rainfall for the 24-hour period on Monday was 3.84 inches.
Prince of Wales Island also was hit by the stormy weather. The Inter-Island Ferry Authority had to cancel Tuesday's ferry run between Hollis and Ketchikan, because the road to Hollis was blocked by power lines knocked down during the night.
While the storm subsided Tuesday morning, and the sun even made a mid-day appearance, another round of wind and rain is expected Tuesday night. Wind gusts up to 45 mph have been predicted for KRBD's listening area.