Two Ketchikan elders are cleaning up and looking for a new place to live after the roof of their rented home was blown off during a big storm earlier this week.
Marge and Frank James were in bed, not quite asleep after a restless, stormy night. It was past 1 a.m., and Frank James says the lights suddenly went out, and then Marge heard "thunder."
"I said, it's not thunder," he said. "It's something else, bouncing across the roof."
Actually, it was the roof – or the top portion of it, anyway. It peeled off the house during a particularly strong gust. The couple was immediately inundated with water.
"Must be over 50 spots in the master bedroom where it was pouring down. I mean literally pouring, not dripping. Pouring. And running down the walls," he said.
The Jameses quickly took action, but they're both elders and Frank is recovering from heart surgery along with other health issues.
"The two of us, we're not supposed to lift," he said. "And I'm not supposed to lift period, but I never listen. Anyway, it was a big nightmare."
They did what they could to move items from the wettest parts of the house into the living room, which remained relatively protected, and they worked to minimize the water damage.
"We had pots and pans. We ran out of pots and pans all over," he said. "Pretty soon, we had to put raingear on."
At around 6 a.m., the couple decided it was time to call in the kids and grandkids to help. The family mobilized to move the heavy furniture, and the landlord later sent a crew over to put a tarp over the exposed single-story house.
Several days after the storm, the rooms where the leaks were the worst are cleared out, with nearly everything piled in the living room area. The house is chilly, and there's a damp smell that's not strong now, but indicates how bad the leaking was.
"It was horrible," Frank James said. "I told everybody when they come in, they always usually take their shoes off and they automatically started, I told them, 'No, you put them on coming in here and take them off going outside.'"
The focus now is on cleanup. Marge James says she's going to be doing laundry constantly for days.
"Because the walls in the closet in our room, water was coming in to the closets," she said. "Everything hanging, on the shelves in there: wet."
At least clothes can be cleaned. In another room, Frank James says he found some worse damage.
"And then I finally went and checked the office, and here all my electronics were soaked down, every bit of them," he said. "I've got a $2,400 model boat in there, and that was soaked."
The model boat is a remote-controlled electronic boat. There also was a lot of legal paperwork that had been stored in the office that needs to dry out, and a couple of real boats out in the yard were hit with pieces of the roof as it broke up and scattered.
Right now, Marge and Frank are staying at a local hotel with funding assistance from Ketchikan Indian Community, but they're looking for a new place to live.
"We're just trying to get someplace to move into, because we can't stay in this," she said. "Like I said to him this morning: Those carpets haven't hit badly yet, but the smell is going to be atrocious."
Frank, who has building experience, says it's going to take several months of work to get the house into a livable condition again. The couple also will need to replace some household items.
Luckily, most of their memorabilia and heritage items are safe, "because most of that kind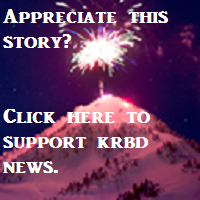 of thing is in here, as a rule. Like the pictures," said Marge.
While the couple did not have renters insurance, they said they didn't need any help, other than a new place to move into. But their daughter, Colleen James-Olsen, says they're just too proud to accept donations.
James-Olsen says she is working with Tlingit Haida Regional Housing Authority in hopes of getting expedited acceptance for her parents at the Shaan Hidi senior housing facility in Saxman.
Her parents can't stay with James-Olsen because of pet allergies, so, she says, while they wait to hear from Tlingit Haida, the family is looking for short-term housing options.