The Houghtaling Elementary School's robotics team recently competed in a tournament in Fairbanks, without ever leaving Ketchikan. Dumpster Diving Dolphin coach Sharon Carson says they spent Saturday in co-coach Mark O'Brien's room.
"We took all the desks and everything out of his classroom, set up the table, set up a curtain screen and set up a camera. GCI was able to send up a webcam and linked up live to the competition."
Two other teams from Valdez also competed virtually.
Robotics competitions generally have two parts. The first is a presentation on a theme, which includes solving a problem by research and collaboration with local organizations. The other is more straight forward.
" Kids take a robot and they engineer and build it and they program it to accomplish specific missions on the board. The missions that we were able to accomplish achieved the most points by far."
The team outscored the next  place team by 170 points and received an award for that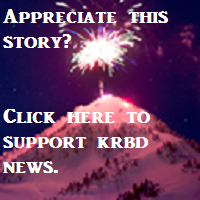 portion of the competition. This is the second year the team has been competing, but it is in its fourth year at Houghtaling Elementary. Ten students officially participated, but since there were no travel costs, many more team members came to watch, learn and support their teammates.
"It was really nice lots of families that showed up and participated. We had a potluck, parents were able to come in and watch the board competitions."
Typically, leading up to a competition the team will practice an hour and half after school four or five days a week, which is no problem for students.
"But it's hard to get adults or coaches that are able to have the time to commit to the kids and see it through to the end." Carson said competing virtually opens up a lot of options for the team, which she says has no shortage of student enthusiasm.