A woman crossing the street in a motorized scooter was struck by a vehicle near The Landing Friday afternoon, but police say she appeared to be uninjured.
Ketchikan Police Department Deputy Chief Josh Dossett said the driver of the vehicle stopped to let a pedestrian cross in the crosswalk on Tongass Avenue, but didn't see the woman following the first pedestrian across the street.
"The gentleman in the car started to go, not realizing that the female was in a power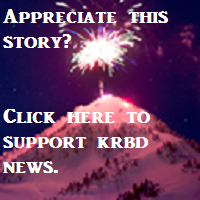 chair coming across, following behind the first person. She was a fair bit behind. So, he was watching the first pedestrian, started to roll forward, struck her and the chair, pushed her forward a little bit, causing the chair to flip," Dossett said.
Dossett said the woman was taken to the hospital, but she didn't have any obvious injuries from the accident.
"She was talking, she was alert, talking to both the officers and the ambulance crew. So, at this point there was no sign of serious injury," he said.
Dossett said the case remains under investigation, so he couldn't comment on whether the driver would be charged.